NAB-2022 – A Quick Look Back
[April 2022] The NAB Spring Show disappeared during the pandemic. This year it finally reappeared. What happened in Las Vegas? Anything we should know about?
This year, the NAB returned to Las Vegas for the Spring Show – the first in three years.
Manufacturers and attendees alike were anxious to resume a sort of "new normal" and show off their products. More than 900 companies from 38 nations – including some 160 first-time exhibitors – were there.
Total attendance was anticipated at 52,468 (2019: 91,500) from 154 countries, or about 60% of the last Show. Anticipating this, many manufacturers are sending smaller staff members to man smaller booths, some more or less "virtual," especially compared to previous years. Among the "no there," overall, there were fewer attendees from the major consolidators this year. The plus side was that with fewer people at the booths, there was more opportunity for networking and conversation – which often included support people who appeared to be available in many booths.
THE NAB MOVES WEST
Well, to be accurate, most of the Radio Floor moved to the new West Hall at the Las Vegas Convention center.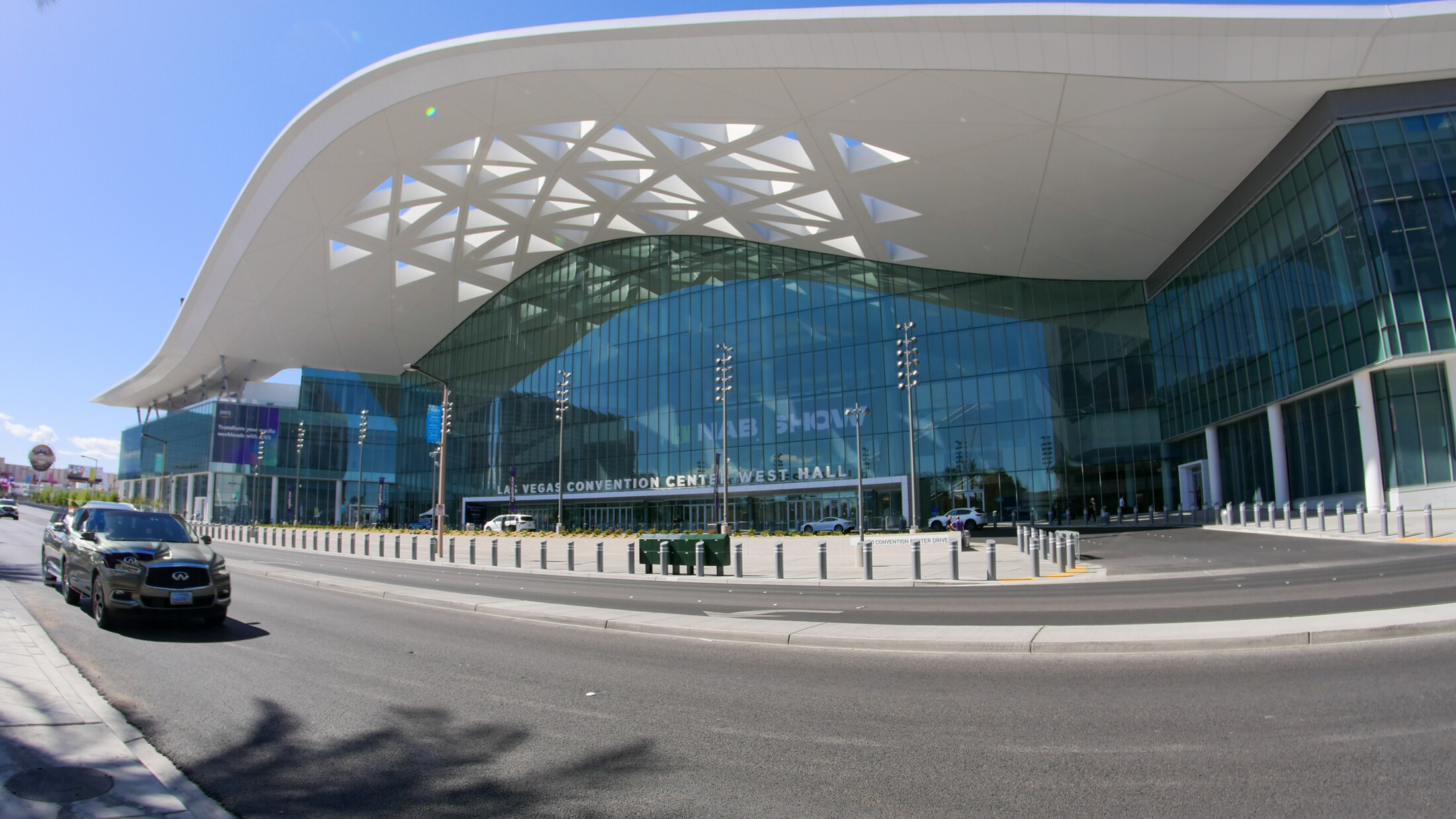 If you were there last time (2019) you saw it under construction. It is now open for use, including the Tesla Tunnel with the two-minute  ride from the West Hall to the Central Hall area. (Of course, this year, the South Hall was not used.)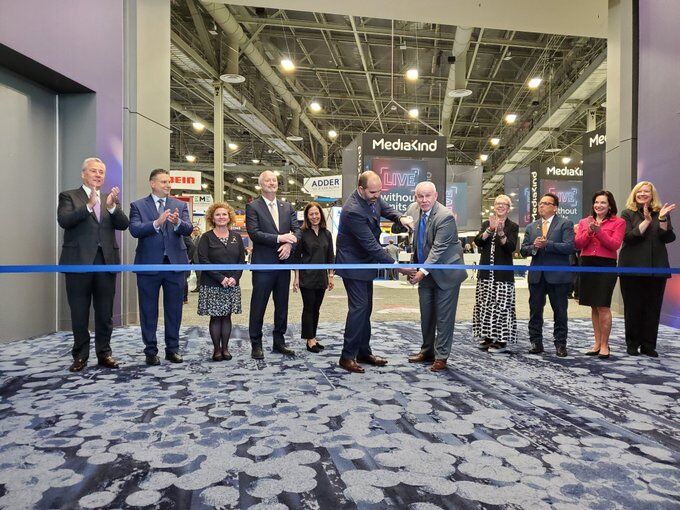 Along with the other companies West Hall had some 360 booths. A ceremonial ribbon was cut, "opening" the Show in the new "digs" for most of the radio manufac-turers, and others. NAB President/CEO Curtis LeGeyt and Chris Brown, NAB's VP of global connections and events were on hand to cut the ribbon commemorating the show's expansion into West Hall
A number of manufacturers and BDR readers shared their thoughts on what were some of the key things at the Show.
GIFTS FROM THE FCC AND THE FEMA
Perhaps one of the top aspects of the annual NAB Show is hearing from the regulatory agencies, particularly the FCC and the FEMA.
The FCC especially likes to give a few little "gifts" to broadcasters at NAB, It is a tradition. So the Order released on April 28th is a welcome one for FM and LPFM stations.
Basically, the Report and Order – with a fact sheet prepended – says the Commission is ready to let FM and LPFM statinos to use computer modeling for directional patterns instead of having to prove the pattern  by measuring it on a test range.  They plan to approve this Report and Order during the FCC's May 22, Open Meeting.
But, the FCC was not done. A mid-May Public Notice will alert broadcasters to some updates on the LMS portal as more formerly CDBS forms and filings will most to the LMS. This will also include STA requests, that currently are requested by email. The LMS portal will also bring back the Form 395 (not used for a couple of decades), which seeks a breakdown by race and gender of station employees.
One comment made by the FCC that all stations should note: the FCC really wants stations to file changes in LMS contact information. This is what the FCC uses to contact stations to inquire about problems with renewal applications and the Biennial Ownership Reports. When there is a change, sometimes the FCC will inquire, and if they do not get a response, can – and will – delete applications, which can cause stations problems if not caught in time.
Over at the FEMA, one major announcement from the Show was that there will not be a National Periodic Test (NPT) of the EAS this year, with the next test schedule in the early part of 2023.
WHAT COULD YOU SEE?
It wan an interesting mix of manufacturerswho were there, and those who did not go this year. Even among those that were at NAB, most had a smaller staff. One – but not the only – exception: Nautel. They had a larger than usual booth and also kept up with their regular Nautel Users' Group, which did meet on Sunday morning with over 300 in attendance.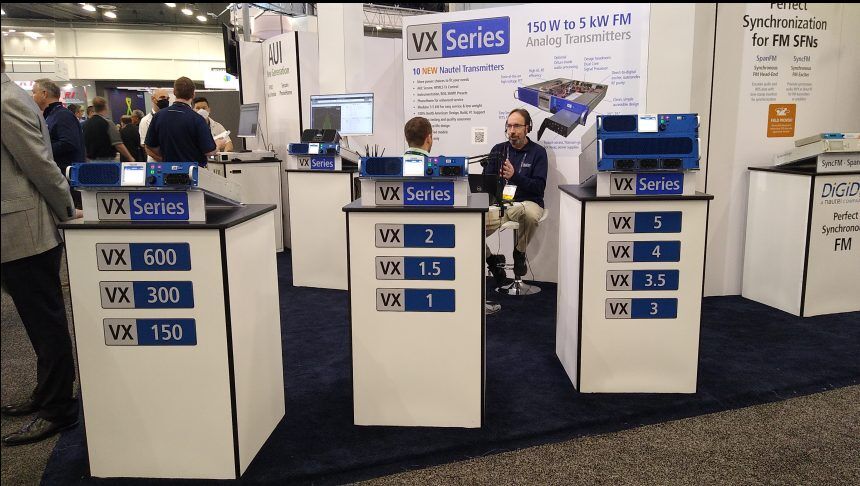 Nautel's Jeff Welton broadcasting from among the new VX series of transmitters. 
Nautel's big "reveal" was the new VX line of FM transmitters – 10 analog FM models ranging from 150 to 5000 Watts. Among the displays that got the most interest was the demonstration of the new AUI for Nautel transmitters. Still in "rollout" mode, the HTML5 version of the Nautel AUI has more features and works better than the old AUI. The biggest gripe is that many still have to wait, but Nautel promises to eliminate bugs and other glitches before the full release.
One thing was clear: those that came were ready to have some fun: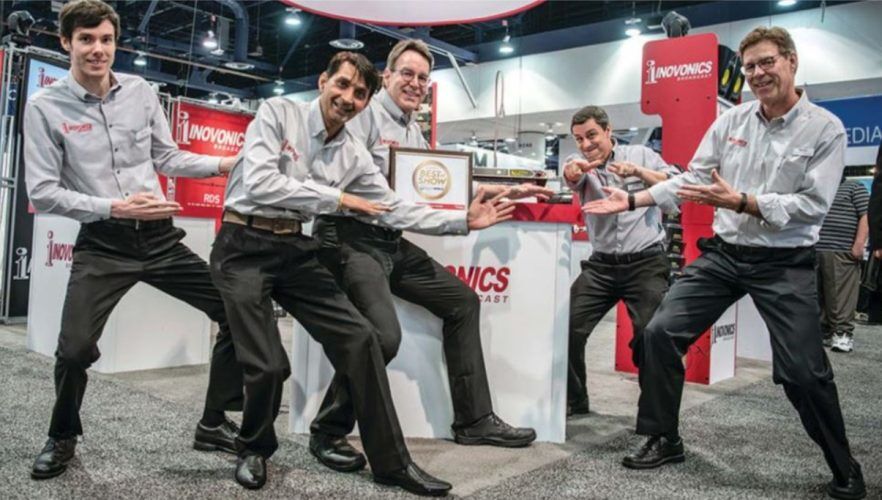 A happy crew invites attendees at the Inovonics booth.
Inovonics featured two new Modulation Monitors and two audio processors. The Model 551 HD Mod Monitor displays all the essential modulation data in a graphical format; the 552 is a smaller form with a minimal front-panel display, . Tthe new model 719N DAVID IV FM/HD, a fourth generation DSP audio processor and the NOVIA272 is s smaller but multifunctional FM/SCA/RDS audio processor – plus streaming IN/OUT and a web interface.
RF PROTECTION
Davicom's new DVLC-1 Lightning Counter is a complement to the previously released DVLD-1 Lightning Detector. Not only know when lightning hits your site, you can see how many strikes happen.
FM ANTENNAS AND COMBINERS
Dielectric, ERI, and Jampro were At the Show with new antennas and combiners. With the trend to more and more shared sites, these productes will help deliver improved RF systems. Among the products were Direclectics new FM pylon antenna and the ERI 3 dB FM Hyrid Combiner. Jampro's 90 kW Hybrid FM Combiner is both a Starpoint and Constant Impedance for up to fivetransmitter inputs.
AUDIO CONSOLES
Lawo brought their new diamond console along with other products. Wheatstone had a new system: Layers, whioch can mix and control multiple sources including the new Stream Blade, and the Glass LXE, which is highly configurable – with the web interface, it can operate anywhere.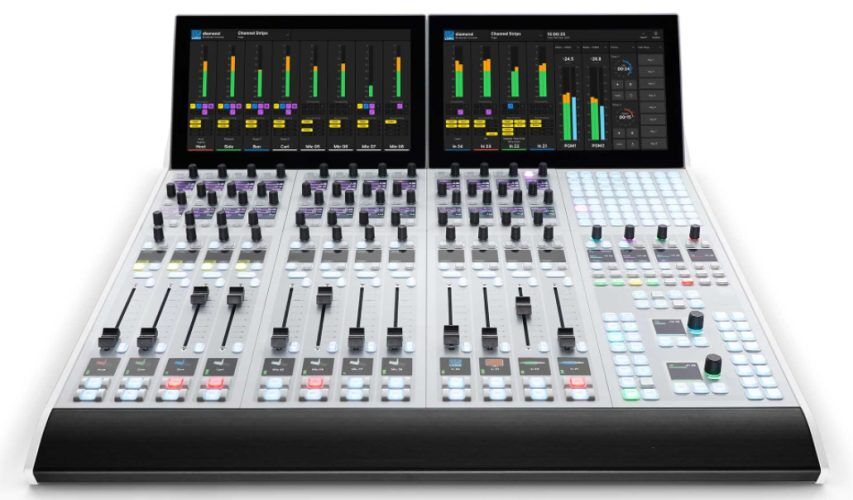 The Lawo diamond
AUDIO PROCESSING
It was Angry Audio's Audio Chameleon that caught a lot of attention, both on the broadcast and streaming side – featuring a lot of processing with minimal need for setup.

                                    Angry Audio C4 Audio Chameleon
And Orban had both an update to the Optimod-XPN-AM and a new API to work with the Burk remote control systems.
EAS MONITORING IMPROVED
Digital Alert Systems showed their Fifth Generation DASDEC-III with a number of new features, including a new front panel display, software, and now using RJ45 connectors for quick connection and maintenance. The DASDEC-III  most recent firmware update has features for TV and radio broadcasters, including some interesting ways to reduce message flooding and provide Text-to Speech
         Digital Alert Systems new units make control and operation easier
AND MORE!
Kintronic Labs attracted a good number of attendees, as did other companies. The announcement at the start of the Show that GatesAir was acquired by Thomson Broadcast brought some to see what was going to happen.
A lot of attention was focused on cloud services all over the floor. Software to control operations and workflow – including software to manage other software – sorts seemed to be everywhere. What do you need?Software for script/storyboard/budget/plan/shoot/post/fx/edit/caption/stream/ring cash register? It was somewhere on the floor.
Yes, there were drones, with help to show upper levels of towers. And Camera One, a new video system for radio stations and streamers was shown by Broadcast Bionics.
Several manufacturers split their displays among other booths.
And a lot of folks found the Gregg Labs AM Stereo Audio Processor quite interesting.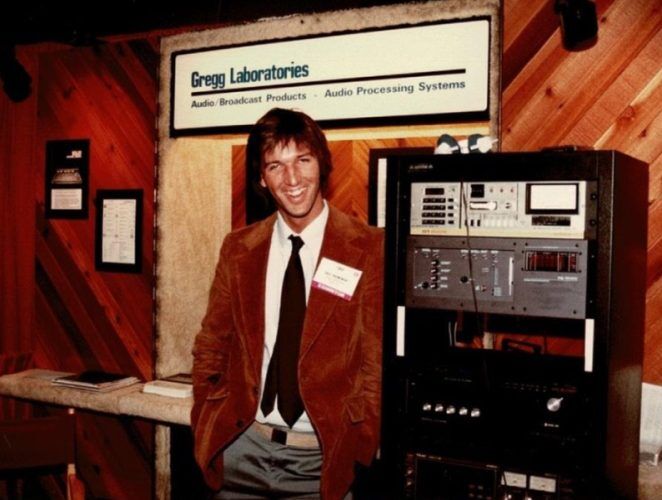 Oh! Wait a minute! We seem to have gotten this picture slightly out of order. Not quite 2022.
HELP!
Did we miss something you thought was good/bad/interesting? Equipment, location, presentations, etc. Plesae let us know your thoughts on NAB2022.
We will have more information on these products on the BDR, and even some presentations are already scheduled to show off that products and their features. Check us out each week!
– – –
Would you like to know when new articles are posted? Just take a moment (30 seconds) to sign up for the one-time-a-week BDR Newsletter. We will not flood your inbox nor share your address!