KOB And Its Decades of Conflict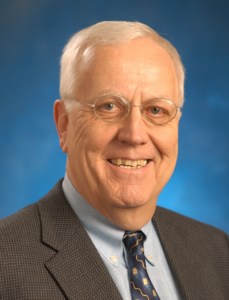 [July 2023] In the early decades of broadcasting, many radio stations were moved – some repeatedly – as the federal agencies tried to balance the number of stations around the country and to ensure service to rural areas. What became known as Clear Channel frequencies (no relation to the former name for iHeartMedia) were highly prized, and stations and their attorneys constantly pressed the FCC for advantage. This story covers one of the longest-running confrontations and how its devolvement affected the whole industry. 
Like many other pioneer radio stations, KOB began life as the dream of an electronics visionary.
What may have been somewhat singular is that this station's birth, nursing, and early upbringing were supported by an institution of higher learning. So the outfit was able to weather the usual crises of confidence that haunted so many early investors in "radio." 
KOB may have begun as an engineer's hobby. Still, it was soon recognized for providing information services to a wide area of the sparsely-populated Southwest: dirt-poor farming and ranching communities without electricity and with scant knowledge of agri-business development.
Today, KKOB-770, Albuquerque, New Mexico, operates its 50-kilowatt AM radio service in the country's 69th-ranked radio market. While competing with 64 other radio signals, it provides "wide-area" service to a half-dozen states (daytime) and to most of the western half of the country at night.
And KKOB calmly delivers its revenues to Cumulus Media.
A SPECIAL VOICE IN THE SOUTHWEST
To many, there is magic and magnetism to the Southwest.
During my years with Hubbard Broadcasting in the 1980s, KOB was part of that allure. My association came at the tail end of KOB's 39-year battle to maintain its coverage area. The skirmishes were finally over; the FCC and the courts had ruled, and it fell to my crew to comply with the order to adjust KOB's nighttime coverage to protect WABC. That meant a tower move.
During the reconstruction period, I began to hear the stories of KOB's unusual history. The KOB-WABC battle was only one of KOB's struggles. Other skirmishes included petitions to deny KOB's license by two sitting governors and a challenge by the New Mexico college that built and then sold KOB – and then wanted it returned.
But there was no one living in the 1980s who possessed the complete picture of KOB's struggles to grow and mature.
FILLING IN THE HISTORY
Then came AmericanRadioHistory.com with searchable copies of Broadcasting Magazine. That provided access to several dozen news stories and FCC Notices regarding KOB, and many included context.
In compiling this information, it became apparent the best way to tell the story was to create a timeline based on these public documents and to reinforce that information with Ann Velia's great book "KOB: Goddard's Magic Mast: Fifty Years of Pioneer Broadcasting" from which we derived further context.
GODDARD COMES TO NEW MEXICO
Almost a century ago, Ralph Willis Goddard nourished a dream.
He had grown up in Massachusetts in a family that encouraged his interest in mechanical and electrical devices. By the time he graduated from high school, he had opened his own company, selling hand-built inventions, from electric bicycles to dynamos. He graduated from Worcester Polytechnic Institute in 1911. He went to work teaching Electrical Engineering at the University of Nebraska for a few years before being lured to the post of Electrical Engineering Department Head at the New Mexico College of Agriculture and Mechanic Arts near Las Cruces, New Mexico (hereinafter the "college" or "the school").
GODDARD BUILDS HIS DREAM
Goddard and the college were a perfect fit. The school supported and nurtured development in the electrical sciences.
As part of his duties, Goddard established a radio club that began operating amateur radio stations, among them 5XD. He developed an interest in delivering news, weather, and farm information to the wide-open territory in which he lived, using the developing art of "wireless telephony."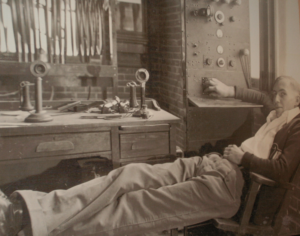 Goddard's standing at the school led the college board to endorse an application for a "radio broadcasting" station. At the time, only one other station was on the air in New Mexico: the short-lived KNJ Roswell, which went dark in late 1923.

The license with the call letters "KOB" was granted on April 5, 1922. (The KOB call sign had been used by the steamship Princess Anne (she had sunk off Rockaway Shoals, New York), and the call letters were available for reassignment.)
KOB was licensed along with practically everyone else in the country on 360 meters (approximately 833 kHz). Station power was about 500 Watts – from not much of a tower.
Nearly all of KOB's equipment was hand-made by Goddard.
AN ATTEMPT AT ORDER
Historians recall the "chaos" on the early AM broadcast band. Stations were "jumping" to whatever frequency they wanted and raising power to overcome competing stations.
That chaotic environment reached a nadir in 1926.
The Department of Commerce had given up its licensing authority, and the Federal Radio Commission (FRC) was created to herd the cats. The FRC's early attempts were seemingly ad-hoc; they would try a station-assignment plan and, when that created even more problems, would try another plan.
Station assignments were being moved almost monthly.
KOB STARTS A TREK AROUND THE DIAL
In KOB's case, after the first assignment on 360 meters, it had been assigned 860 "kilocycles" in 1925 (348.6 meters).
Then, the following year, the FRC moved KOB to 760 (where it first encountered WJZ (later, WABC)). Records show the City of License as "State College, New Mexico." KOB had authorization for 1,500 Watts and was planning for 5,000 Watts – Goddard was beefing up power supplies and looking for bigger tubes.
KOB would need the power. Among the stations sharing 760 at this time was KWKH in Shreveport, LA, run by the renegade "Pappy" Henderson, who ignored all the rules about power and time-sharing and exhorted his listeners to complain to the government about the way he and his station were being treated. (The KWKH story is worthy of a separate recounting.)
ALMOST A BOOMERANG
In February 1928, KOB was granted 7500 Watts and moved from 760 to 1050 – for one month – and then was sent back to 760 by the FRC.
Ten months later, in November 1928, KOB was moved to 1180, with 10 kilowatts. As a condition of this far-better assignment, KOB was ordered to share post-sunset time with KEX Portland (KOB 1/3, KEX 2/3). Within a year, KOB was authorized for 20 kilowatts.
Goddard went back to the machine shop.
MONEY ISSUES
Since its first day of operation, the college found itself bearing KOB's increasing operating costs and needed some help.
It was rare that a high-power station could survive in an area with a small economic base; almost all the other big stations were anchored in significant population centers. Thus, in the late 1920s, the school authorized commercial sales, and, failing success in that endeavor, Goddard was advised to "shop" the station.
KOB LOSES GODDARD
Ralph Goddard was a true "Engineer." In his makeup was a deep respect for technical operating rules and practices; KOB was thus a model for technically-correct operation.
Goddard was constantly at work in the transmitter, eking out major and minor performance improvements. He was working there one evening in late December 1929 when he stepped in the wrong place and was electrocuted.
After Goddard's death, KOB, which had certainly required technical handholding, fell into some disorder. The word got back to the FRC that the station was not maintaining the required technical operating standards. In such a condition, the station would not have been terribly attractive to a potential purchaser. So, in 1930 the college took the station off the market but reaffirmed its support and began to clean up the problems while it continued to try time sales.
AN OPERATING PARTNER
Meanwhile, Tom M. Pepperday, who owned The Albuquerque Journal, saw an opportunity to scratch an itch to try broadcasting.
He approached the college with an idea, and in 1931 the Board of Regents accepted a proposal by which the Journal would take over the operation of KOB, moving it to Albuquerque and rebuilding it properly while the college retained the license. (At the same time, KOY in Phoenix went to the FRC asking for KOB's license – citing the station's technical issues. That request, while turned down, certainly inspired the Regents to make the decision to hand KOB to Pepperday.) 
KOB IN ALBUQUERQUE

The station went on the air in Albuquerque on 1180 in 1932, still time-sharing with KEX in the evenings.
Its classic adobe transmitter building is still in use. 
Through a further clarification of its agreement with Pepperday, the college added language leasing KOB's facilities to the Journal. Station "profits" were divided 50 / 50 between the newspaper and the college. The agreement also guaranteed the college "access to KOB air time" (this was an arrangement that would grow thorns).

Citing its inability to deliver the licensed 20 kilowatts, KOB in 1932 asked the FRC to reduce its authorization to 10 kilowatts.
This candor, and the emerging reputation of its new Chief Engineer, George Johnson, made KOB some new friends at the Commission – including a fellow named Wayne Coy.
KOB was given the power reduction and remained licensed to the college and leased to the Albuquerque Journal.
ALMOST A SEPARATION
The Journal soon discovered that KOB was too expensive to operate, with only 50 percent of the profits as a return.
Pepperday wanted the college to take it back – but to keep the station in Albuquerque. The school, near faraway Las Cruces, said no; the distance was impractical. Therefore, a contract affirming the original agreement was initialed in 1934, which now included some cash from the Journal to the college and a re-commitment to station operation by Pepperday.
As for the evening time-share with KEX, in 1934, KOB asked for full-time operation on 1180. The new FCC told KOB that if it wanted such full-time operation – and did not directionalize to protect KEX – it would have to reduce power to 5,000 Watts after Portland sunset. 
(Interestingly, by the way, in these time-sharing situations, it was apparently common practice for the FRC/FCC to grant temporary time-waivers based on the desire of one of the stations to clear specific programs. The stations had to apply in advance for these waivers. The record shows several of these requests for such content as Presidential addresses.)
A FURTHER POWER REDUCTION

From 20 kW to 10 kW, now KOB initially chose the FCC's "5-kilowatt" option so it could immediately operate full-time on 1180.
It also appeared that KOB might stay full power at nighttime if it built a directional antenna to protect KEX. KOB applied for a directional-antenna authorization, but these plans were overtaken by the channel-assignment machinations leading to the North American Regional Broadcasting Agreement of 1941 ("NARBA").
Uncertainty was about to reign yet again.
A FIGHT OVER CONTROL
While KOB was keeping an eye on its channel-assignment future, New Mexico Governor Clyde Tingley announced one day that 'the college was getting a bad deal' out of its arrangement with the Journal.
Tingley, it seems, was smarting from his treatment by Pepperday and the newspaper.
Perhaps seeing the value of KOB in furthering his own political agenda, Tingley wanted the State to take over KOB. Legislators pushed back, telling the Governor that KOB was too expensive for the state to operate. The Legislature agreed with the college's board that, without the Journal's continued cash infusions, the station would go under.
Tingley, a highly-respected civic leader, never met a cause he did not like. But on this one, he went off without knowing that the deal signed with the college was actually of benefit to the school.
The public discourse got personal and silly, to Tingley's discredit. Pepperday used KOB and the newspaper to fight back (this was not the only time KOB would be involved in media concentration matters). In the end, Tingley walked away from the fight he had started.
THE COLLEGE LETS GO
Then in 1936, the college did attempt to regain control over KOB – but wanted to operate it as a non-commercial station.
The FCC rejected that proposal.
After the lawyers and the Board of Regents were through talking, KOB's license was formally sold by the college to "The Albuquerque Broadcasting Company; T.M. Pepperday sole owner." (It was necessary to differentiate between a newspaper and a private citizen licensee to comply with the FCC's media concentration laws. But in this case, the distinction eludes one.)
At any rate, the new broadcasting company agreed to get serious about radio and pledged to rebuild the station. But lurking in the files of this 1936 sales agreement was language that would haunt both parties.
NARBA COMES TO TOWN
The Albuquerque Broadcast Company rebuilt KOB while it looked for an opportunity for a permanent operating frequency.
The preliminary positioning for NARBA was making many stations uneasy. The formal "pre-plan" was 1934's so-called "Havana Agreement" on North American broadcast assignments, which was to guide the 1941 frequency reassignments.
From the start, the "Havana Agreement" had teething problems.
The United States delegation was tasked with creating a 'potentially-permanent' Table of Frequencies, whose protection by other countries in the hemisphere would be guaranteed by International Treaty. In those pre-computer days, that meant conferences and more conferences to discuss laborious hand-crafted draft documents; these were continually under review and modification as stations invoked NIMBY.
To its credit, the FCC involved its licensees in the dialogue rather than simply announcing new operating assignments, as the FRC had been doing. 
WHOOPS!
During the years prior to its 1936 sale to Pepperday, KOB as a college-licensed station had been included among the "Educational Stations" on the FCC's assignments list.
However, as such, the station unwisely refrained from representation in the Havana discussions, though it did forward a request to have its channel designated as I-A.
Nevertheless, the Commission forgot to deal with KOB's allocation during the Havana conferences.
CHESS MOVES
One of the FCC's projects ahead of 1941 was to integrate the Havana Agreement with the FCC's own "Craven Plan" for more-equitable allocations. Goals included a reaffirmation of international protection for certain 1-A stations and the establishment of sharing assignments for some of the others.
The U.S. had transferred six of its I-A frequencies to Mexico and had to make room for the high-power stations that were on those channels – which at that moment included WOWO, KEX, WAPI, KVOO, WWVA, KOB AND KYW.
First, WJZ was moved from 760 to 770, while WBZ was moved to 1030. As to who would have to share, ideas abounded. Written proposals flew across the country at the speed of train-mail delivery, and the potentially-affected stations loaded their political cannons.
The first draft proposal would have the following:
WOWO sharing 1160 with KEX,
KOB would split 1180 with WAPI
KVOO and WWVA would share 1140
Then, a follow-on idea was that KYW and WAPI would share 1020 – and KOB would be alone on 1180.
This version was confirmed in 1939, and KEX filed to move from 1180 to 1160.) KEX's filing meant KOB could operate full-time on 1180 and in 1940, KOB was authorized as a Class I station on 1180.
NOT SO FAST, THERE
Then Eastern Interests succeeded in getting 1180 re-classified as a I-A clear channel, and the frequency, tentatively assigned to New Mexico, was instead placed in Rochester, NY.
The so-called "final" NARBA frequency assignments downgraded 1030 from I-A to I-B status and placed KOB on 1030, sharing the frequency with WBZ (the FCC was apparently unaware that WBZ put a useable nighttime signal into Albuquerque). The record is vague about what followed but apparently, KOB went on the air for a short time on 1030; 50 kilowatts day, 25 kW nights, non-directional.
Because of KOB's interference to WBZ, a latter-day Boston Tea Party appeared imminent. KOB had also complained about return interference from WBZ, and they knew that the Treaty proposal also assigned 1030 to Mexico City (a situation that would have crimped KOB's reach in the Southwest).
In addition, there was potential interference to a KOB-1030 operation from a Roswell, New Mexico, full-power assignment on neighboring 1020.
A TEMPORARY SOLUTION THEY SAID …
The FCC, realizing it had a serious issue with 1030 in New Mexico, conducted a comparative interference analysis and, on its own motion, assigned KOB to 770 on a "temporary" basis for "factual observations."
WJZ did not object at the time due to its understanding of the temporary nature of the assignment.
At the same time, KOB was given a permanent license for 1030 – just in case. (You should know, as you read on, that the KOB authorization for 1030 remained in force throughout most of the impending KOB-WABC conflict years.)
And so, with the NARBA dial changes in 1941, KOB was now – "temporarily" – assigned to 770, operating 50 kilowatts days and 25 kilowatts night, non-directional. An RCA BTA50-E was installed.

KOB AND WABC: GENERATIONS OF WHITE-LIPPED ATTORNEYS
And so it begins…
A 1941 protest to KOB on 770 was filed by NBC "on behalf of its affiliates who didn't want duplicated network coverage." (One wonders why NBC could not just pull the NBC Network affiliation from KOB? But one also understands the real reason for the protest.)
With KOB remaining on 770, several stations were now eyeing 1030, and their attorneys were filing applications one after another. In 1943 KWSC Pullman WA asked for KOB's 1030 assignment, arguing KOB would never return to that channel. A year later, the FCC announced it had authorized KWBU Corpus Christi, TX, for daytime high-power operation on 1030. And KARM Fresno CA also wanted on the channel.
KOB's 1030 fallback option was being devalued.
KECA Los Angeles then decided to file for "a breakdown of 770." The FCC wrote a response that was of value to both sides in the coming battles. It told KECA that it could not accept their breakdown proposal "since by International Treaty, 770 had to remain a I-A channel."
Nevertheless, by 1945, 770 applications included KECA as well as KXA and WEW St. Louis. Additional applications would be filed by KMBC and by KFEL Denver.
While the 770 applications were arriving in Washington, attorneys for KOB asked the FCC to "issue KOB a permanent assignment to 770." This request was granted; however, subsequent FCC authorizations for KOB contained the same conditional language that was included in the original 'temporary' 770 assignment.
At this point, everyone took a break. That is, except for the folks at KOB, which encountered other troubles closer to home.
THE COLLEGE RETURNS TO THE MATTER
For several years a dispute had been brewing between KOB and the college over just what constituted "access to air time."
The college had wanted specific blocks of time; KOB said no, and the FCC affirmed that KOB was not legally able to relinquish control over its air-time.
That was enough for another New Mexico governor who had also been bashed by Pepperday's Journal in print (and, presumably, by Pepperday's KOB on the air). Governor John Dempsey demanded the FCC revoke KOB's license, alleging "personal scandalous attacks" by Pepperday. In response, the Journal said Dempsey "was attacking Freedom of the Press" and challenged the governor to "go to court, not to the FCC." Personal challenges flew.
AND WHAT WAS THAT STATION ID?
In 1946 KOB added more ingredients to the stew.
They wanted release from a requirement of their 1936 agreement that required them to co-ID with the college as joint station operators (though they had not done those IDs for years).
Dempsey seized the moment.
He invoked the FCC's Section 317 requiring sponsor identification and wanted a fine levied against KOB for each infraction of the co-ID rule. He arbitrarily assigned a value of $2.00 for each ID infraction and unilaterally calculated 250,000 such violations. "That's a half-million dollars you owe the college. Pay up!"
The wags among us might be saying, "this could only happen in New Mexico." But folks there took their politics seriously and Dempsey had a loyal following, so this was not a trivial matter.
THE COLLEGE WAS NOT QUITE DONE
While Dempsey's soup was coming to a boil, KOB got a call from the college attorneys.
The school now wanted KOB's license returned to them and filed against the renewal of KOB's license to Pepperday.
The matter was sent to the U.S. Circuit Court of Appeals. Arguments before the Court: KOB: "The 1936 contract governing "air-time access' is confirmed as illegal by recent FCC rulings." The college: "If that's true, then the 1936 agreement itself is illegal, and the transfer to Pepperday should not have happened." KOB: "We were to provide air time…but not specific air time as the college had been demanding…which would have been illegal." (The record does not show that the co-ID issue was argued in the proceeding.)
On January 20, 1947, the Court upheld KOB while the FCC assigned Dempsey's challenge to a hearing. Dempsey's petition was enlarged to include the matter of "identical editorial positions taken by the newspaper and by KOB." This second "media concentration" challenge against KOB and the Journal apparently went nowhere.
AND WE HAVE AN APPEAL!
In 1949 the college's attorneys asked the FCC to 'reconsider the Court's decisions' – while also sitting down with KOB to try to work things out locally over an iced tea.
The iced tea must have been too bland for some; KOB was soon back in court, asking that the FCC affirm its decision on the KOB/college time "contract."
By now, Pepperday seemed to be losing his zest for the fighting. Besides, he now had KOB-TV to build out. In 1950 he announced that the station "will compensate the college for its (alleged) lost time … and failing acceptance of that solution, KOB would just give up its license." Pepperday would relax when in 1951, the FCC affirmed that "contracts for no-charge perpetual time are illegal."
Tom Pepperday wanted to remain friends with the school; he gave them $50,000 to settle any remaining disagreements while also agreeing to some carriage of college programming – "but under the Licensee's control."
PEPPERDAY EXITS
In 1952 Tom Pepperday exited the KOB-AM business, selling the station to TIME Inc. and Wayne Coy, who (coincidentally?) had been FCC Chairman during the previously-reported maneuverings before the Commission.
WJZ (remember them?) opposed the transfer, but KOB successfully petitioned the FCC to act on the transfer and to treat the 770 matter separately.
In the second half of this history of KOB's history, we will cover the real battle between KOB and WJZ/WABC. The attorneys are not done yet.
– – –
Now retired from Hubbard and CBS Radio, Mark Durenberger has long enjoyed looking into the interesting backgrounds for many of the stations and operators that build the broadcast industry. You can contact Mark at Mark4@durenberger.com
 – – –
Would you like to know when more articles like this are published? It will take only 30 seconds to
click here and add your name to our secure one-time-a-week Newsletter list.
– – –