David Stewart
David Stewart
1960 – 2023
David Stewart, a lifelong broadcast engineer and radio enthusiast, well-known and helpful to everyone, suffered a stroke and passed away July 1, 2023 at the age of 63.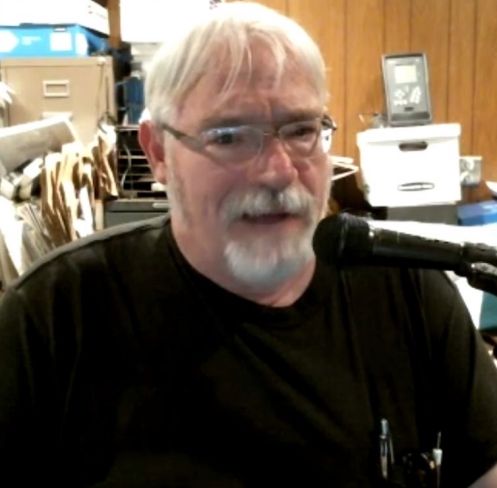 David Stewart
April 1, 1960 – July 1, 2023
David Stewart was born on April 1, 1960 in Lubbock, Texas to Richard and Janice. He then lived in Boyd, TX (about 30 miles NW of Ft. Worth).
He graduated from Boyd High School and Texas Tech University in Lubbock  Even before graduating high school, he was already working for a local radio station – KNTO, Wichita Falls. David loved radio and found a way to get into almost every station in Dallas=Ft. Worth and environs: he asked to see the Public Information File. That led to a lot of tours, and he made some friends all over the area.
In college, he began serving as on-air talent at the campus radio station, and also handled master control and engineering duties for KCBD-TV. He also worked at KTEZ, KFYO, and KLBK-AM. When Texas Tech sold off the radio stations, David worked at and became Chief Engineer at KKAM AM/ KFMX-FM.
In 1985 he joined Tichenor Media Systems, where he worked for 12 years, largely based in El Paso, TX. In 1997, Heftel (later Hispanic Broadcasting) purchased Tichenor and David followed. (Hispanic merged with Univision is 2003.) He served the company as Director of Engineering for 13 years, supervising over three dozen engineers, and often lending a hand personally to make things work better.
It was in 2004 that David started Moving Target Consulting Works, targeting his efforts at small market and mom & pop owned stations. This included his taking ownership of KPET AM/FM in Lamesa, Texas. (He also was part owner since 2008 of KWFB, Holiday, TX and KXXN-FM Highland Park, TX.), In recent years, David kept KPET one the air almost singlehandedly, doing tech, sales, payroll, etc. etc., even when the city did not support his efforts.
In 2019, he received the George Marti Award for Engineering Excellence from the Texas Association of Broadcasters.
David was never too busy to help someone in need. He knew the industry.  And, if you asked him a question about almost any station facilities and its history, you could easily have an hour-long conversation. His picture library of radio station sites – the good, the bad, the ugly – was tremendous, as was his willingness to share.
In keeping with David's way of always helping others, he has donated all his organs to those in need.
More information will be added to this file as received.