Walking the Floor: CES 2019
The 52nd International CES was as big as its predecessors, if not a tad larger.
If you think NAB is a big sprawling show, consider that CES. Filled at least four convention center locations and into the hotel suites of three hotels, and that is if you do not count the private exhibits and press events.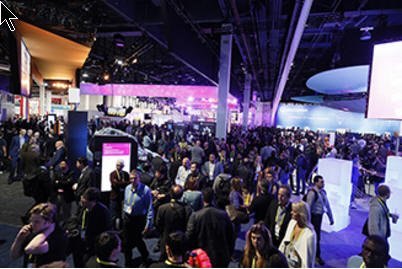 Last update: 1/17/19
Put it this way: on Tuesday (the day the show opened) the app on my cell phone read more than 5.1 miles walked (14,350 steps) – despite several long sitting meetings. The only thing missing was a podiatrist booth, which would have been very well attended!
Statistics
The NAB Show in April, by comparison, has about 90,000 attendees. The International CES boasts over 180,000 attendees, severely jammed isles – and streets! – for three days.
But, no, there really is no way to cover it all.
An any rate, let's share some quick thoughts of what was on view.
Audio Presentations
If major interest, of course, to broadcasters is what is new in audio.
As one might expect from a convention which had a key word of "Innovation," it was clear we have not yet "seen it all."
We can start, of course, will all sorts of car audio, including custom Internet, streaming, and dashboard accessories to deliver all sorts of audio (and even video) to the whole car. Some of these products – not just loud, but clean audio – make it hard to get out of the car!
Something was quick to catch the eye: With the recent renewal of interest in vinyl, it was interesting to see turntables by Audio Technica from $99 to $800. Como Audio had their new turntable on display, and Technics had a suite to show off speakers, headsets, and … the SP-10G and the SL-1200G! Of course, arms, cartridges, and styli were on display from modest cost to over four figures.
Microphones and headsets were all over the place, too. Wired, wireless, BlueTooth – and with diaphrams with ever cleaner reproduction. My Golden Ears friends are finding more great headsets with modest prices than ever before.
A More Perfect RPU Microphone
In recent year, manufacturers have been working hard to have quality microphones that can work with cell phone apps to record, edit, and upload audio from anywhere.
The new Shure (model) seems to have combined all the things one can think of, from selectable microphone patterns (adjustable in mono and stereo in small increments), built-in compression, and more. This would seem to be a no-brainer for stations sending anyone out to get news – or any audio in the field.
Audio Technica also displayed new microphones, headsets, and earbuds for studio and remote use.
And, you could hardly move without bumping into more companies displaying wired, wireless, and earbud products – everything from ear buds for exercising to hearing aids that can be adjusted by an app.
To make studio announcers happy, there is progress on reducing the latency in BlueTooth and WiFi products. Some, like Helm readying BlueTooth units using new algorithms allowing latency numbers under 19 milliseconds, potentially useful for most folks.
Speakers
Wandering the floor and, especially the suites, there were speakers galore that could deliver clean audio from a whisper to symphonic recordings.
Improvements on last year are BlueTooth speakers – indoor and outdoor – that might even include lighting. One product even looks like a rock to casual inspection. Others are six or eight feet tall and can handle several hundreds of Watts of audio with ease.
Accessories
Need a phone or tablet cover, protector, carry case, battery? The North Hall was filled with every sort of things for your cell phones and tablets – covers, chargers, keyboards, as well as apps that help you find things, check your heart/pulse/walking/ exercise, caloric intake, and more.
A fair amount of the Sands exhibit booths also featured health care apps, including several sleep and calmness enhancers, for example.
Tools You Can Use
Check this out: CAT (Caterpillar) phones has two models of cell phones that include FLIR IFR sensors that you can use – or send your workers out to relay back to you in real time, temperature checks of gear.
Litra showed off their LitraTorch 2.0, at small form light with BRIGHT LEDs! This was pitched for TV or podcasts – the color or brightness can easily be adjusted – but are perfect for getting into small or dark places (like inside transmitters) to do maintenance.
The Connected Home/Office
There were a lot of companies showing various home/office security plans – with and without WiFi and Cellular connections. It seems at the same time improvement and overkill. Personally, I do not wish to communicate with my refrigerator. Call me a Ludite.
Security
We noted above that many products for securing the home were shown, some of which could be utilized by stations and transmitter sited.
A variation on digital locks was shown by Lockly, where the number pads scramble and rotate with each entry. No one can tell your code by watching you push a button.
While some of the locks will allow you to open them remotely or via BlueTooth tags, each claims to be more secure from hackers. This may be need more proof, especially if your site if remote (takes a long time to get there).
On the other hand, the video doorbells were much improved, using IFR and zones to record activity and notify you immediately – before someone could destroy the unit.
Which leads us to a new – and useful – way to employ a drone.
Drones
An area that sure has exploded in that past few years is that of drones.
One display were many drones, from hobby products to some useful to inspect your tower and antenna.
But check this out: several companies showed off drones that will only go up to about 20 feet, but can actually take pictures and actually follow intruders to a prescribed distance. This could be a real boon in knowing about and securing remote sites.
TV Screens
The race for biggest screen seems to be over, but just like the audio industry went quickly from reels of tape to cassettes to CDs to DVDs, the big TV players seem to be working to outdate your screen by resolution.
Two years ago, Sony showed off screen that was 39 feet wide – possible longer than your living room! Rather than try to focus consumers on screens of this size (and major price tags), the emphasis now is moving from SD to HDTV to 4k and now 8k, with 16k just ahead. If content providers keep pace, we soon will not have to travel outside our homes to soon to view the beauty of creation.
Housing Notes
This may be considered a warning to make plans now for NAB. (Need a Floor Pass: use code MP-01)
Hotel rates have just gone plain silly, and worse: convention hotels jumped to double and quadruple their regular rates during CES – ranging from $65 to 995 a night, and sold out rather early. And then there were the resort fees. One popular low end hotel booked early enough to have a rate of under $40 added a $39 resort fee and a $14 parking fee, pus tax, in total well over twice the room rate.444
For those who have not been to Las Vegas in a few years, the Strip hotels have largely followed the MGM properties and installed parking fees – even if you only want to stop for dinner. The hotel where the Nautel NUG will be held in
April, for example, will check you close to $10. NOTE: There are a few hotels, mostly independents, where parking is free. Unless you need your car, the monorail tickets are a smart move.
There is still more to share. We invite you to check back over the next week to see what else caught our eye at CES – along with some pictures and specific model numbers.