Walking the Floor: CES 2017
CES had its 50th edition this year. From a small start in NYC in 1967 (17,000 attendees), this year's edition was expected to welcome about 180,000 attendees (1/3 from other countries) to some 4000 exhibits in over 2.6 million square feet of space. Added to the Las Vegas Convention Center facilities were exhibits in the Sands Convention Center, the Westgate Convention Center, and suites in the Venetian Hotel and other places. Some 600 exhibitors were there for the first time.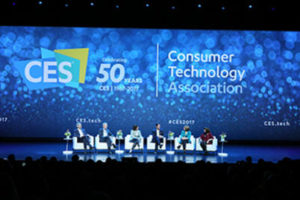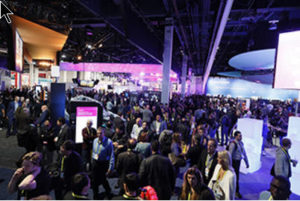 You may have read that security was up this year. That is true. All bags were inspected – except for the clear plastic ones issues to the news media, who were just waved through. There also were some dogs in evidence around the Show, but by and large were no big deal. Traffic was pretty thick, as one might expect, with one new complication: most of the big hotels on the Strip now charge for parking. While you could get to much of the Show via monorail, that did not work for the Sands/Venetian site (Shuttle bus, taxi, walking were the alternatives).
Yes, They Had Them!
OK … yes, there were drones at CES, lots of them. A whole section of South Hall was filled with them. Many Virtual Reality products were there, too, as well as 3D printers, robots, concept and connected cars, big, curved screen TVs, and Bluetooth connected anything, which joins the IoT – the Internet of Things.
The Connected Home, The Connected Car, The Connected Pet, Connected Fitness, and the Connected Kitchen were just a few of the items linked via the Internet. What to know when to buy more cereal? Some new garbage cans will tell you, thanks to UPC readers. Monitor your house, car, health of kids and grandparents, anything that you can connect to a server.
And wherever you looked you saw more booths and products with names starting with an "i" than anything Apple or iHeart could do, put together.
Walking the Floor
Once you make up your mind that you cannot cover all of the floor booths and hospitality suites, there is still a lot to see and, if you just keep walking, find a surprise or two. A list helped, but walking with open eyes was helpful, too.
Our goal was to find things that might specifically interest the broadcast community, and we found a number of useful products – and a few vaporware items as well.
For example, those stations that are still using, or considering again using, vinyl records, you should check out the latest Audio Technica belt turntable. It has a built-in preamp (or will let you use your own). While the turntable price is modest, there is a whole series of heads and styli available, including a true audiophile moving coil head that costs just $5000. (yes, the number is correct, but it does sound fine!)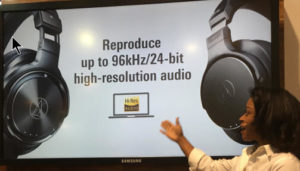 Audio Technica also decided to do something to stand out amongst the hundreds of wired and Bluetooth headphones at CES, with a couple of models that eschew the traditional D/A conversion by using a D-Note chipset using apt-x to directly modulate the diaphragm.
The result was enhanced "Purity of Sound," as they put it.
Not to be outdone, other companies, including Sennheiser are striving to use the latest and soon to come Bluetooth versions (4.2 and 5.1) and codecs to increase bandwidth and speed, and reduce latency. Few decent headphones want to talk MP3!
Making the Right Earphone Choices
One thing becomes clear as you work your way through the BlueTooth options: everyone needs to take the time to test several products and decide what they want in terms of sound.
Here is where the idea starts: if you get in someone's car (someone not in broadcast), there is a 1/3rd chance they never touched the default radio EQ settings. On the other hand, you can often predict which folks will turn up just the bass, or do a bass-treble bowl.
It many ways it is the same with earphones. A lot of wired and wireless headphones are sort of "middle of the road." Not real exciting, but useful.
But then, there are models that help you find the right one. CCrane has released a set of earphones that are optimized for speech. Others, like Monster focus on the best possible D/A as producing audio as clean as possible. And then there are the models for people who never listen to MP3s.
There seemed to be a convergence of Bluetooth and hearing aid technologies. Several of the units on display seemed to work hard to include noise reduction and/or tinnitus reducing features.
Nuhera IQbuds were noteworthy among the companies showing how software applications and the Internet can combine to allow personalization of ear buds without spending the big bucks hear aid companies often charge.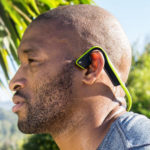 Following up on their success with wired headsets that rely on bone conduction, rather than in the ear, Aftershokz displayed their new Bluetooth wireless headsets. The concept of bone conduction has several benefits. First, they do not block ambient sound (for example, cars while you are walking/jogging) but, even better, most folks with hearing issues get clean, clear audio direct. I tried them and, despite a hearing loss in one ear, instantly enjoyed the way the whole stereo audio image was clearly centered.
One line that really stood out was the Scottish RHA earphones. While you can get $20 units from them, their flagship model, at $250, contains three sets of filters so you can choose the response you want to listen in clarity and comfort. Other manufacturers focused on helping you avoid running out of power: the YEVO comes in a carry-case containing 6 charges before reloading.
Earth Friendly, Too
Again, depending upon what level of reproduction you crave, maybe the House of Marley's attention to environmentally renewable materials will give you a balance of satisfaction on both an audio and natural level.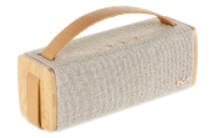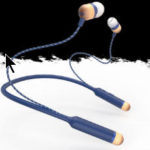 For example, the Riddim BT ultra-portable speaker is encased in natural bamboo, a cork base, and fabric made of hemp, organic cotton, and recycled plastic bottles. The new House of Marley in-ear headphones feature "sweat proof" bamboo construction. Given the attention to the product, they are well worth checking out!
Jasco is another company seeking to be environmentally responsible. The gave a large section of their booth to Justin Wren to promote his "Fight for the Forgotten" campaign for water in Africa.
Better Than Tie Wraps!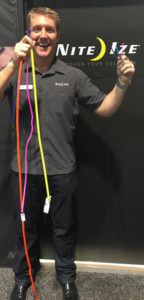 Building a new studio – or remodeling one? Usually that means a pile of tie wraps (cable ties) and cutting and replacing them each time a change happens.
If so, NiteIze new Gear Ties are really worth a look. Not only can they replace traditional cable ties (the steel center is covered by rubber), they are reusable and have a loop to keep the tie where it belongs.
NiteIze' Michael Hawks (L) shows off several different Gear Tie product sizes from 3 inch (left hand) to 64 inch that will let you tie anything from a pair of wire to heavy TV video and control cables. It might make your bungee cords obsolete.
Another good tool, found on the floor are the Flir infra-red thermometer products. Some new enhancements make this a valuable tool for transmitter tuning and troubleshooting.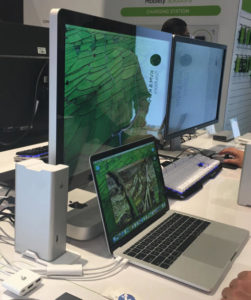 Need some extenders for keyboards and monitors or just plain video?
IO Gear has a brand new KVA Docking station, which will allow you to switch from PCs to laptops effortlessly.
An HDMI extender was also shown, as well as a really nice battery for portable power in the field.
At the size of 20,000 mAH, we only saw one other larger one one the floor (27,000 mAH!) from a startup focused on lighting needs. For a slightly smaller need, GO PUCK's new 6XR 9000 mAH belt- attached power pack features the new Qualcomm intelligent quick charge circuit that will put out 3.6 Volts for 90 minutes, until the target is charged, then backs off.
Another area showing higher and higher capacity is flash drives. Remember when they were 64MB? How about 2 TB today? Moore's Law in action.
Back to Audio
The North Hall, as usual, was filled with a lot of auto-based exhibits (in fact, I was told, everything else will be put out of the North Hall next year – sound familiar?).
Among the concept cars, connected cars, speakers with enough power to go further than many PSRA grants, was a new hardware/software control for car audio that, while not cheap, can do a lot for someone who spends a lot of time on the road.
Audio Control was displaying their DM-810, a product taking you back to the installer for a complete system to customize the sound in your car. You can EQ audio, change levels, ever adjust the phase between channels. Not happy with the processing on your favorite station? Adjust away.
Bluetooth Gear
At the other end of the scale, Bluetooth products were everywhere. BT certainly is a workhorse in the IoT. Wireless speakers, ear buds, etc.
Bluetooth speakers, head phones and ear buds were everywhere. Priced from $10 to $450, you can get, if you have the patience, just what you want to hear, fit your ears and lifestyle, and budget. Codec: SBC, AAC, etc. A few of these were mentioned earlier, primarily for headphones, but there is more.
Bluetooth speakers claiming to be waterproof (from 10 seconds on up) were in many booths. Sakar's Altec Lansing and ZAGG's lines are quite affordable (as low as $40) with good output levels for use on remotes, etc.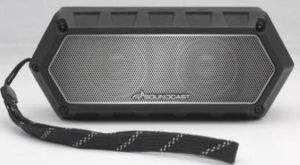 Soundcast's new VG1 and coming by Spring VG7 Bluetooth speakers range from a one pound carry-along, to a full floor model to fill almost any large area with very clean audio. The unit is waterproof, but you would not know from the crisp audio. Oh, it will also contact Siri, if you want.
Another very nice sounding portable speaker came from Lemon Technology. The California Roll not only is among the environmentally conscious products, its 33 solar panels will allow up to 20 hours of runtime with only 7 hours of sunlight. Also with voice recognition, the California Roll can connect with three devices.
Other Bluetooth uses include one retrofit that many folks (even with new vehicles) should have: Think a backup camera would be useful for your remote van? Several companies, including Cedar Electronics (Cobra) have an aftermarket set of Bluetooth camera and relay to install easily and tell you is going on behind you or, in some cases, alongside – to tell you what is happening in the hard to see "dead spots. Cedar saves you money by using your cellphone to display – others use dedicated monitors.
At the User's End
Among the new radios on display at CES, CCrane showed off their new Skywave radio, planned for Q2, to have AM/FM/Weather/SW/ … and SSB selections!
While not quite ready for home installations, Sony led the way this year with a truly "life size" display, made up from their Cedia modules: 9 feet tall by 39 feet wide! According to the info sheet, it is not 4k, not 8k, but 16k ready!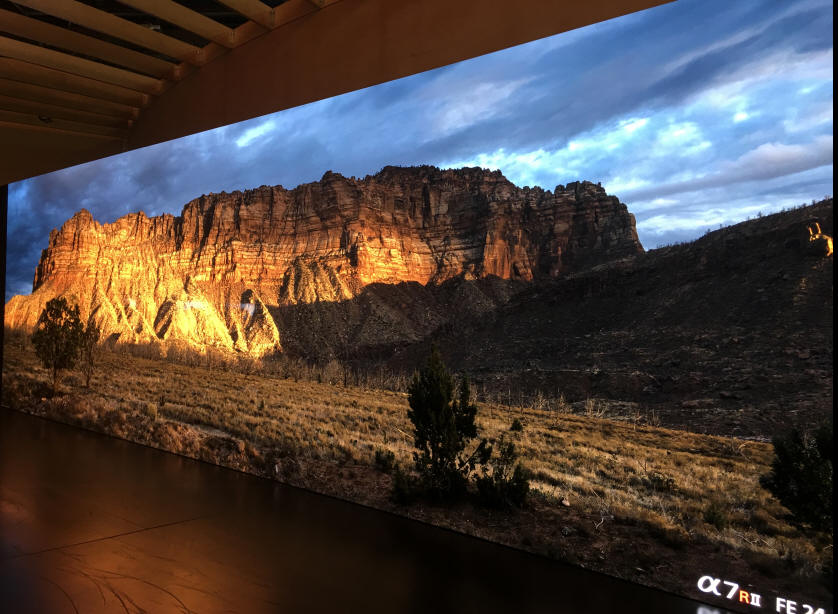 Yes … 39 feet wide…. stunning! No, this cannot even give you half of the stunning video effect!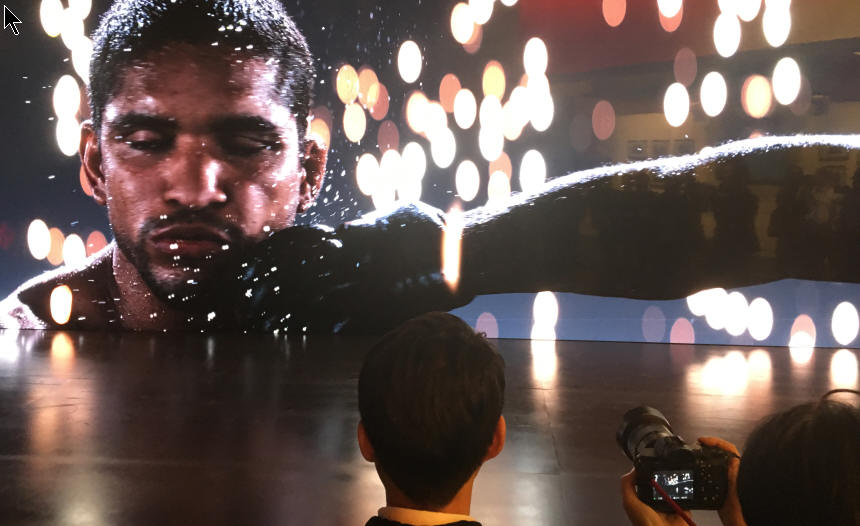 It is hard to explain, except to note the head in the center is an attendee, watching the demo
And For Some Fun!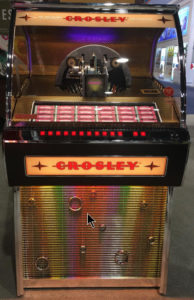 Maybe you wish you had a juke box for the man (or lady) cave.
If so, you will be pleased to know Crosley has made it it for you. And you only have to save up $12,995,
But it looks good and it plays real 45 RPM records – you know, the ones you have been saving for a decade or two!
There are a couple of cheaper models, but if you are going to spend $10k, you might as well go the whole way, right? Besides, you will have the "best" man (or lady) cave a broadcaster could!
Easy on the Ears
You likely have seen those earphone ads that let you listen to TV without bothering your mate. But then, how do you have enough sound to hear soft speech without rocking you both out of bed when the bomb goes off? AfterMaster, a product from long time radio/TV/studio folks in LA, goes one better than earphones. It lets you take the TV sound output and intelligently processes it, bringing the very low sounds and the very loud sounds into a much better listening experience.
Aftermaster seems like an especially good deal for handling those cable channels that seem never to have heard of the FCC's rule about audio control not allowing commercials to blast through. On the other hand, those who are streaming will find this a great "leveling" device to process audio going out to the listener/viewer.
And Some More Ideas
MasterLock displayed several safes and locks that were fingerprint or application (via Internet) operated.
Security is becoming more and more important in several areas: transmitter and studios, of course, IT security, and home use, as well. Likely you have seen advertisements on the television with the question: "Who is at the Front Door?," showing how people can see who is at their front door, even from another country. Ring, is but one of the providers. Qwikset, Brinks, Heath Zenith, FirstAlert, and more companies all had door locks that can be activated by touch, Internet, or, amazingly, a key!
DLink and EZVIZ were among the companies showing off the fixed/PTZ cameras. I heard about, but did not see, a demo from Samsung that has some software with their Internet cameras that will follow "motion" as it moves across the area.
Eureka Park
One of many interesting aspects this year: even some large companies have opted for Crowd Funding .. bringing some interesting products to the Show floor.
Walking among the booths in "Eureka Park' it was quite interesting to see the wide variety of products and software being shown – sometimes as production gear, sometimes as concepts. For some, it sounded like you were in France. No wonder: 36% of the startups this year were from France!
That is about it for the top of this year. Please check the date at the top, there may be some additions during this coming week. There was just so much to remember, something will pop up in a day or so!
Thanks for reading this review.