Paul Gregg
Paul Gregg
Engineer, Broadcaster, Gentleman, Gentle Man, Friend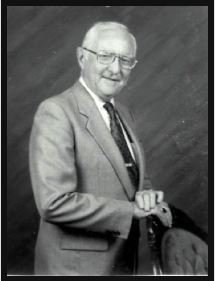 Paul Erwin Gregg
January 15, 1924
May, 2014
6/6/14 – We are heartbroken to have to report the death of Paul Gregg this week in El Paso, at 90 years of age. The family has sent word that "After a thorough investigation it has been determined that the cause of Paul Gregg's passing was heart failure. The autopsy results showed that the arteries of his heart were fully blocked."
There was no one nicer or quicker to help others than Paul Gregg.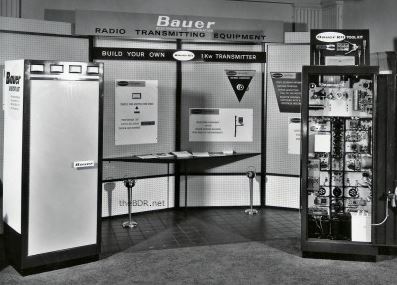 For seven decades, he has been remembered for his work with Grainger, Gates Radio, Sparta, Cetec, Bauer Transmitters.
Paul was the force behind the first (and only) professional transmitter kit – the Bauer 707. With Paul's assembly manual, the kit was so simple that they could hire a "Kelly Girl" to come to the NAB Show in Chicago and build one in public. At least report it is still in use.
More than 700 of the 707s were sold, and many are still in use.
Paul started in radio in 1939 in Wisconsin. Moving to San Francisco in the early 1940s, he was the Chief Engineer for KLS (later KWBR, KABL, and now KMKY). At the end of 1942, he enlisted in the Army Air Corps, returning to KWBR in mid-1946. Late in the 1950s, while selling Gates Radio gear, he met and began working with Fritz Bauer. Paul was there as it morphed to Cetec (which included Schaefer, Jampro, and Sparta).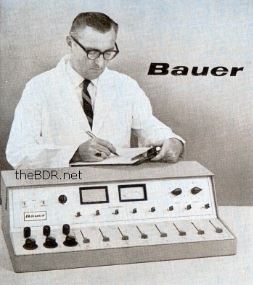 In addition to the 707, Paul designed one of the very first solid-state audio consoles, the Bauer 910.
In 1968, he formed what became Elcom-Bauer, selling limiters, transmitters (including a model used all over Vietnam and one of the first solid-state AM transmitters – the SS-1000), and other products, which were especially popular in Mexico.
It was 1993, when, as US Sales waned, he moved the company to El Paso, Texas.
From El Paso, Paul continued and enhanced his relationship with Radiorama, one of the large radio companies in Mexico, including holding technical seminars for the engineers there, refurbished transmitters, did some local contract engineering.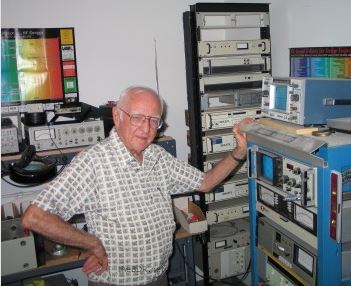 Even as he turned 90 this year, Paul still kept busy in his El Paso shop, supporting the Bauer and Sparta transmitters – and virtually everything else that callers as requested from him.
Paul was just as kind to a ham who wanted help converting a 707 for use on one of the ham bands as he was to a corporate engineer calling for information or parts.
And, then there was all the history of the industry that he was happy to share; he was there for much of it. From his early days as a DJ to equipment sales to product design and support, Paul always was a joy to speak with – even moreso to visit in person, at the NAB shows, in his shop, or at the German restaurant down the road.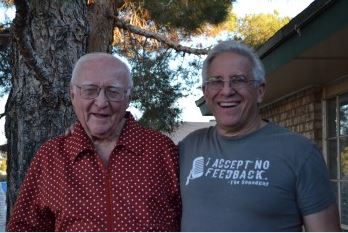 When we started the Hall of Achievement during my years of editing Radio Guide, there was no ques-tion who would be the first honoree – it just had to be Paul Gregg.
We were honored by two of Paul's daughters flying in to Las Vegas to surpriuse him at the Lunch Gathering. It made the day one to remember!
Paul leaves behind three daughters (two of them pictured above), Paula, Jennifer, and Susan, and hundreds of friends throughout the broadcast industry. There will be no service. Per his wishes, the family will be spreading his ashes outside the Golden Gate Bridge in San Francisco.
The Bauer and Sparta parts and manuals will be sent to Goodrich Enterprises in Omaha, NE.
You may wish to come back to this space later for any addition information received, including several more celebrations of Paul's life.
Glenn Leffler remembers Paul.
Buc Fitch remembers Paul.
If you would like to add to this page, with your thoughts on Paul Gregg, please contact The Broadcasters' Desktop Resource.
Here are some thoughts from those who knew Paul:
---
5/30/14 – I want to say that I have never met any radio man as fine as Paul….knowing him was a blessing to me and our ministry .. Paul, you will be in my memory and heart.. I am not far behind you in age … see you soon , In Christ… – Bob McClure
---
5/30/14 – I was shocked to learn of Paul's death late yesterday. I have know Paul since the 1970's. A true gentleman. An outstanding engineer. A man who's talents were put to the test during WWII. An innovator creating the first all solid state transmitter, only transmitter kit and many others.
I will miss my friend of many years. – Bob Groome
---
5/30/14 – Gosh!! I've worked on many of the Bauer-707's and Cetec and Sparta equipment. They were the early "work horses" of many studio's. The 707 was really pretty easy to work on and trace the problems. I had a long wire loop that I used to bypass the start relay on the front with a touch across the relay. I was always happiest when the relay would hold and the meters would slowly rise and we were back on the air. (KDTA-AM, Delta, CO.) – Dwight Morgan
---
5/30/14 – RIP Paul. You were always a gentleman and super helpful. I will miss you very much. God's speed on your homeward flight. – Ron Dot'o
---
5/30/14 – I got to know Paul many years ago and like J.O.Weldon had a high respect for him. I always looked forward to seeing him at NAB, many times at the EIMAC/Econco Booth. I loved to talk to him about the Mexican Market and shared many pleasant and interesting experiences.May God continue to bless Paul and his Family. – Tom Yingst
---
5/30/14 – There are few who could be considered to have made so many contributions to broadcast engineering as Paul Gregg. He designed not only several tube-type transmitters but also some of the first solid-state transmitters. He always had perspective of the engineer charged with maintaining the product as well as the performance of the design itself. – Darryl Parker
---
5/30/14 – I have known "of" Paul for decades, worked on his gear for years, but only got to meet him last year at NAB at Barry's luncheon. What a true gentlemen and scholar! I called him not 3 weeks ago and he was still the bright and knowledgeable veteran of our industry, memory as sharp as ever and we talked about a couple of his boxes. The radio industry and the world are less now for his absence. Grace and Peace to his dear family on this loss. – Jim "Turbo" Turvaville
---
5/30/14 – It was over half a century ago I met Paul for the commissioning of the Bauer 707 at WEMJ, Laconia, NH. Paul was great, because he was a willing teacher to a just out-of-high school kid with a First Phone and a Chief Engineer's job. He was always ready to answer my questions, it was great to find he was still there when I returned to radio in 2010. A loss personally and to the industry. – Linc Reed-Nickerson
---
5/30/14 – I only met Paul a few times, but always found him to be friendly and helpful. A real gentleman.
I remember first meeting him at NAB '81 where I was delighted to see the Elcom-Bauer booth displaying a 705C transmitter. Both the Australian distributors for the Sparta 705C transmitters and Sparta themselves had just gone out of business, and we were wondering about ongoing support. Paul reassured me that he would continue to support the Australian transmitters as well as if he'd sold them. I hooked up with him post-NAB in Scaremento, and he sold me (for a pittance) upgrade kits to bring my Sparta box up to his current design, as well as some other hard-to-get spares. I also took a bunch of his business cards back home with me and distributed them to other Sparta users I knew. Remember this was pre-internet days, and knowledge didn't travel easily across the Pacific.
Whenever I phoned him, or later emailed him, with a question I always got a prompt and accurate answer. I always said that meeting Paul Gregg at that NAB paid for the trip many times over.
Vale Paul Gregg…
– Peter Smerdon
Melbourne Australia
---
5/31/14 – I opened the BDR and saw the first line below. It didn't actually state that Paul was dead, but I immediately said out loud, "OH, NO, NO NO NO NO NO!"
I suppose it was inevitable he would die, just like the rest of us, but what a loss. He was such a great guy, and nice guy. Users of Bauer Transmitters, Inc. / Elcom-Bauer / Cetec / Sparta / Granger transmitters have suffered a great loss, though much less than has his family, friends and the rest of us.
I counted Paul as a friend, and it upsets me. I hope I can get the information on his funeral so I can fly down for it. – Chip Fetrow
---
5/31/14 – I met Paul in 1969 when I worked at Granger Associates in Palo Alto. Granger had just acquired Bauer Broadcast Equipment. I worked initially with the Bauer audio consoles. A few years later Paul helped me put my first radio station on the year, KZST in 1971. Last year at the NAB I had breakfast with Paul. He was as sharp as ever at age 90. He was one of the nicest persons I have ever met. May he rest in peace. – Gordon Zlot
---
6/1/14 – This is sad news. I feel I have lost a friend. Though we never met in person, we visited on the phone or via email many times over the last 37 years. My 707 transmitter (#120)is on the air everyday as it has been since 1961-1962. (As is my 602A FM transmitter). As Barry aptly headlined Paul's obituary: Engineer, Broadcaster, Gentleman, Gentle Man, Friend. This man will be missed by many, including me. – Duane Williams
---
6/3/14 – I was introduced to Paul Gregg by George Badger many years ago. About 10 years ago I obtained a wonderful 707 Transmitter for use on Ham Radio AM service on 160M. Paul gave me a full factory book and lots of help getting this unit on the air, all free of charge and with the love of old gear. We would see each other every year and sit down and talk about Tubes and Transmitters and every thing in between. I am going to really miss Paul, what a Gentleman! – Mike Bach
---
6/3/14 – Always a gentleman, always ready to offer help and advice, I am proud that Paul was one of my friends in this business. He was very glad when he learned that I revived the old Sparta name and he was helping me collect old Sparta gear for a planned broadcast museum. I told him once I wish I could download his knowledge…it was over lunch when we stopped in El Paso. He insisted on paying the check. He worked very hard and deserves eternal rest. We'll all miss you Paul. – Ron Erickson
---
6/6/14 – I am so very sad to hear of Paul's passing. I first met Paul in 1973 when I went to work for Sparta Electronics – my first job in the radio electronics business. I was young and still wet behind the ears, but Paul became my first mentor. We had several teaching sessions in his office, and he taught me how transmitters worked. I was always mystified by them, but he explained things so clearly that it all made sense. High level plate modulation seemed so simple once he explained it!
Paul told me lots of stories about his early life – how he was raised in Menomonie, Wisconsin, and moved to California after the war – how he moved the KWBR tower from the roof of a building in downtown Oakland to the entrance to the San Francisco Bay Bridge – about his years as the California sales rep for Gates Radio – and about how he joined with Fritz Bauer to build and sell the first Bauer transmitters. (Bauer was later bought by Sparta).
I left Sparta after three years, but kept in regular contact with Paul for my entire career. I sold several Elcom-Bauer transmitters in the next few years. Paul became a business partner with investors from the Mexican company Radiorama, and he spent much of his later life working on transmitters and antennas all over Mexico. He never learned Spanish but still consulted for dozens of stations there. In the 1990s I also started working with radio broadcasters in Mexico, and I know many radio engineers there that idolize him to this day.
Paul Gregg was a wonderful person and a great engineer. We have lost one of our best! – John Schneider
---
6/6/14 – How ironic! His big heart is what took him from us. RIP dear friend. – Ron Dot'o
---
6/16/14 – Only to say to Paul Gregg Family, we feel sad, he was an excellent engineer and better friend. – Monir Saad
---
7/10/14 – On many occasions I worked side by side with Paul on stations in Arizona and New Mexico. We built folded unipole AM antennas and converted tube ipa transmitters to solid state. We tore apart old transmitters and he purchased and helped me upgrade at least 12 different stations over the years. There wasn't a more knowledgeable man in the industry than Paul. I learned so much from him. I really enjoyed my relationship with him. I did some business with him earlier this year in El Paso. I could tell he was finally starting to slow down physically but his mind was still sharp as a tack.
I will never forget when by accident I dropped an entire bucket if bolts and hardware from 150 feet up on a tower with Paul standing below. As I yelled down at him to cover his head, he simply got down in the fetal position and waited for the "rain" of hardware to stop. There were pieces all around him and none of them hit him. I told him at the time that he must have an angel watching out for him.
He is with those angels now. May he rest in peace and may his family understand what an amazing man he was. – Reed Richins
---
2/11/15 – I knew Paul Gregg via telephone for many years for having owned a Sparta transmitter. Paul was perhaps the kindest man in broadcasting I've ever known, always helpful on anything I questioned him about, including information on the old Omnitronics Solid State AM transmitter. I just learned of Paul's passing through Jim, N5FKW, who had worked in El Paso for many years. Thank you Paul for the many times you assisted me, always very helpful, Jim. – James Jones