The BeHear ACCESS II: More Than Just A Hearing Amplifier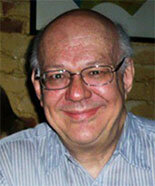 [June 2022] For many broadcasters, our hearing has been affected by many things – in addition to the "normal" things most people handle over their lives – including studio sound levels, transmitter building sounds, etc.
As our hearing need increases with age or illness, we may need some help. Most of the time, we "adapt" consciously or unconsciously. Often the "tell" is when we start using the closed captions on the TV more and more because we cannot clearly hear dialog without blasting family and friends out of the room! How bad can it get? Studies show untreated hearing loss can lead to other problems, including dementia.
Until the past few years, hearing aids were pretty much the only viable option. However, with costs typically in the thousands of dollars – and rarely covered by insurance – the vast majority generally have chosen to "make do" as best they can.
Fortunately, with today's advances in technology, there are some very nice options, which might help you or another family member.
HEARING AMPLIFIERS VS HEARING AIDS
Likely you have seen the ads on late night television for products that say they can help. Pricing is enticingly low.
The problem is that most are, at best, wideband amplifiers. Basically, all they can do is make things louder. They cannot restore hearing – correcting for loss of mid to high frequencies or other damage caused by excess sound levels at work or concerts. And, for some with minimal hearing loss, it actually might be of some help.
Nevertheless, since hearing amplifiers could not help most people, they were stuck with the bad choice of cheap, but poor help, or expensive, but highly capable hearing aids.
TECHNOLOGY COMES OF AGE
In recent years, we have seen a huge explosion of BlueTooth audio products. Literally hundreds of companies have produced wireless headsets and now what seem to be those ubiquitous earbuds.
Each product seems to try to focus on one or more features – unit size, how it fits the ear, whether it connects to your music source or works with your smart phone, or how it looks to others.
Add to that the ability of some companies to develop apps that can do more than adjust sound levels, and we now have a category of products where you can self-analyze your own needs and adjust the sound in ways that are blurring the line between hearing amplifiers and hearing aids.
One of these is the BeHear ACCESS II by Alango.
PERSONALIZED HEARING
The BeHear ACCESS II is much more than anything you have seen on the late night TV ads.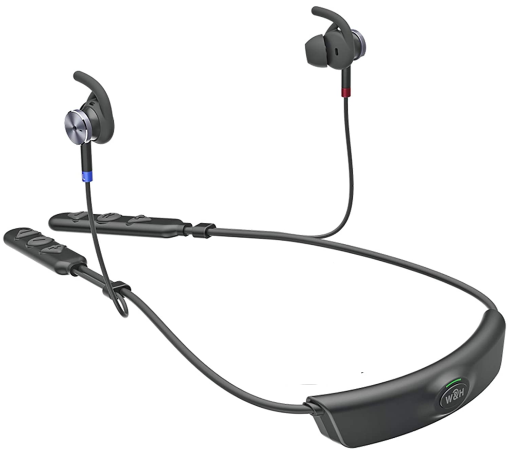 It was designed by certified audiologist and sound engineers to help those with mild to moderately severe hearing loss contend with conversations and phone calls, music and television programs, and general environmental sounds. There is even a tinnitus mitigation feature.
Right out of the box, you have two ear buds connected to a BlueTooth receiver providing general amplification – as much as 42 dB.
There is a lot more to the ACCESS II. By making it as a unified "system" you do not have to worry about losing one ear bud while running, for example. Also, instead of a series of taps to adjust sound or answer the phone, the set has easy to use buttons to make the selections.
But the real value and feature set here comes into play by setting up an app that drives the product.
SETUP
It only takes a few minutes to let the system assess and pretty much know where your hearing is deficient. It was much less than five minutes for me.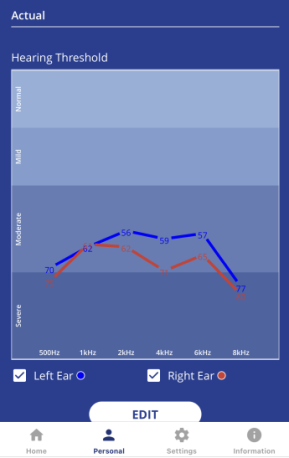 A series of tones let you determine where your threshold is at different frequencies.
You can further adjust the frequency curve if needed. And, you can set up the system for multiple users, switching in seconds to their custom frequency setup.
The app then gives you some really nice options to make the audio experience as good as possible and saves them to the ACCESS II, so you do not need to always carry the phone.
The feature set adds much more. For example: you can select the directionality of the in-built microphones to focus on a wide group of people or narrow the focus for conversation with one or two people. Controlling external audio is available to provide isolation when needed. And the tinnitus masking feature can provide some relief from that affliction.
While I did not get to test this feature, the unit has an integrated "telecoil receiver" for looped venues like movie theatres and concert halls.
OPERATION
Personally what I look for in a good set of headphones really needs to meet five criteria:
They need to be comfortable. The BeHear ACCESS II goes into the ear and stays put. In order to accommodate a variety of ear sizes, the package includes a trio of hook sizes and nine sets of tips for matching virtually any ear.
They need to reproduce audio clearly and cleanly. The ACCESS II does this well, especially when listening to music or TV. Using the app I also was able to adjust the "Hearing Your Own Voice" setting so my own voice did not intrude excessively. (Hearing too much of your own voice can be an issue with any hearing aid or amplifier.)
I like good noise reduction. When I am listening to music or TV audio, the absence of noise from others around me makes it easier to hear dialog. The ACCESS II settings work well for this.
The latency is not too long. While BlueTooth is not instant, the latency did not seem too bad. I was hoping this would even work well afor on-air talent that would like the "freedom" of being about to operate without a cord plugged into the console. (If you are highly sensitive to the delay, you might not select this product for that use.)
The battery has to last long enough to be useful. So far, I have gotten as much as 13 hours on one charge. It is easy to insert the unit into the charging cradle. The battery is said to accept 300 – 600 charges before losing its full capacity.
I do have one wish in regards the tinnitus mitigation. The ACCESS II uses a masking technique with a "wavelike" sound that you can adjust in terms of frequency or level. However, in my personal case, my tinnitus is apparently too loud (it sounds like a constant bad case of loud 15 kHz cart alignments). Perhaps a future feature update might include out-of-phase tones.
OVERALL
Since the ACCESS II is not a hearing aid, there is a limit to what help it can offer.
Still, being able to tailor not only the levels but frequencies needed for each ear really does helps in a lot of ways. Furthermore, the other features make it a lot easier to hear everything from conversations to television programs. Especially welcome is the tinnitus masking feature.
Overall, for any number of situations, it is entirely possible some users might even prefer the ACCESS II to traditional hearing aids. With an MSRP of $299, it certainly will not hit your pocketbook as hard.
Check out the BeHear ACCESS II. You might get just what you need to comfortably hear during your everyday activities.
– – –
More information on the BeHear ACCESS II can be found on their website.
– – –