KFBK Makes it to 100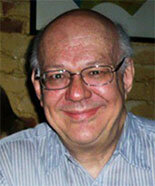 [September 2022] It is a flamethrower in Northern California that has not only an interesting signal, but a past that combines innovation with community service. KFBK is 100 this year.
There is no question, KFBK is a true "Flamethrower." Its 50,000 Watt signal not only blankets the West Coast of America, but has been heard clearly in adjacent states from Arizona to Montana and beyond.
That KFBK has the only FCC-certified Franklin antenna system in the country is where the strong signal starts. But it was not always the strongest in the neighborhood.
ROCKY START
Like many such companies in the rush to get in on the wireless revolution, J.C. Hobrecht, co-founder of the Hobrecht Lighting company, sought and got a license from the Department of Commerce (DOC) in February 1922 to operate as KVQ.
KQV began operations with a 5 Watt transmitter, with an arrangement with the Sacramento Bee, a McClatchy Newspaper. After a few months, Hobrecht transferred the license to James McClatchy, the Bee's publisher. Unfortunately, despite having only 5 Watts, the station received enough complaints from local listeners that they were losing distant reception from broadcasters in other cities. Being sensitive to the complaints, McClatchy shut down and KVQ went dark.
The same year, in August 1922, Kimball-Upson Music Company sought a license and the DOC granted a new station, KFBK. This one signed on September 17, 1922, having bought the transmitter from McClatchy, and operated with an arrangement with the Sacramento Union Newspaper.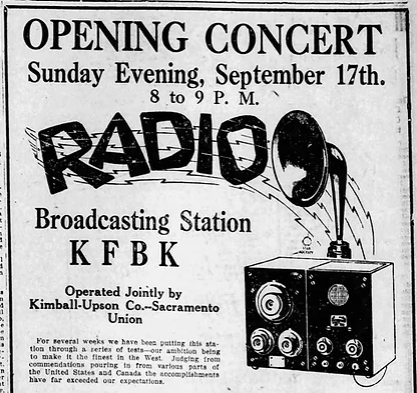 After opening day, KFBK operated from 6PM to 6:30 PM each day, with more hours of 8 to 9 PM on Thursdays and 8 to 10 on Sundays.
Again, listener complaints led to KFBK going dark for a while.
It was in 1925 that the Sacramento Bee's owner returned to broadcasting in Sacramento (in now owned KMJ Fresno and KWG Stockton, both California). It bought half ownership of the station from Kimball –Upson and, together, operated for two hours, 7:30-9:30 PM, on Tuesday, Thursday, and Saturdays on 560 kHz at 250 Watts.
MCCLATCHY BROADCASTING
In 1929 became the full owner of KFBK, installing a 100 Watt transmitter at the Bee's building.
The station grew, moving to 1090, 1310, and then 1490 in 1936, with an authorization for 5,000 Watts.
An interesting activity during those years, KFBK, like its sister KMJ, transmitted news by facsimile during the overnight hours. It was mostly considered an experiment, and as was so in other markets, never really caught on as a popular service.
The station did get a famous logo, based on the newspaper. "Gaby Bee" became the station's mascot.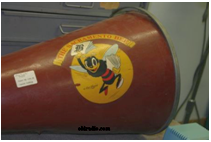 The logo was designed and drawn by Walt Disney.
And although it is just a memory, the "MickeyPhone" continues to have an honored place at the transmitter site.
THE FLAMETHROWER!
The next year, KFBK was allowed 10,000 Watts, and moved to 1530 kHz in 1941 with the NARBA frequency shift in March, sharing the channel with WCKY Cincinnati as designated "Clear Channel, Class1-B" stations (no relation to the later media company).


Each station was directional at night to protect each other. KFBK stayed directional, with a minor change all day and night.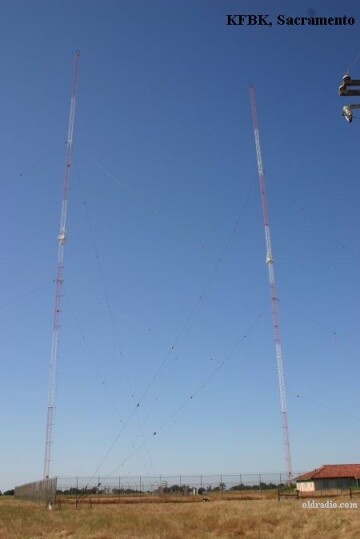 It was in 1948 that KFBK was permitted 50,000 Watts using a unique directional antenna: a pair of Franklin antennas – the only station "officially" (according to the FCC) using the Franklin style antenna: two 180-degree towers stacked vertically.
In fact there were two of these Franklin antennas, which produced a directional signal with a lot of power. With some 3546 mV/m, it is the highest RMS of any station in the country resulting in an ERP of 100 – 400 kilowatts from the 50 kW transmitter.
(There are other stations with similar segmented towers of height close to 180 degrees stacked, etc, but only KFBK has the FCC "stamp" as a Franklin).
FRANKLIN
Approximately 25 miles north of Sacramento, in the middle of a farming area, you can find the only two towers licensed in the USA as true "Franklin" antennas – KFBK
The actual feed to the tower is still accomplished with an open wire system.
The feedline goes through a "screen" area, referred to as a bazooka, to match the line to the tower.
INNOVATIONS
KFBK – and McClatchy engineers – have always been in the forefront of technology.
Much of KFBK's plant was originally designed and built by the McClatchy team. Some of their innovations helped shape the industry.
For example, the station's phasor cabinet and circuitry were build by McClatchy engineers in the on-site shop, similar to many other station shops in the era.
| | |
| --- | --- |
| KFBK Phasor | Part of the KFBK Workshop |
McClatchy engineers also developed the "ampliphase" transmission system from a French design. It appears they built the first working example at KFBK, and sold the concept to RCA.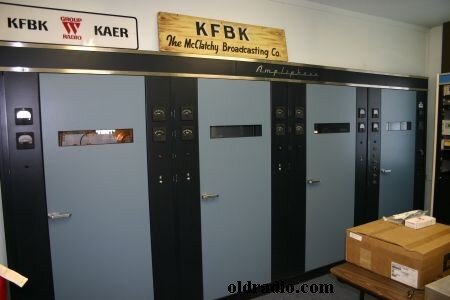 And another Serial #1 unit: KFBK was home to the very first DX-50.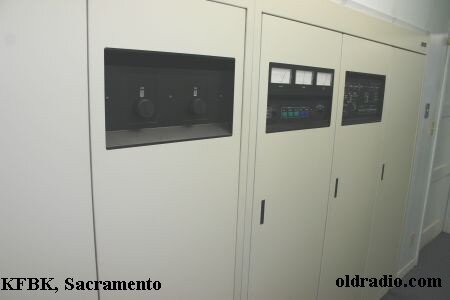 This transmitter put in service in 1989 was so reliable that one of the chief engineers remarked he never needed any of the spare parts and almost never needed any of the lessons from transmitter school on how to maintain this transmitter!
When it was decided to employ digital AM transmission, a Nautel XR-50 was acquired, and continues to be the main to this day.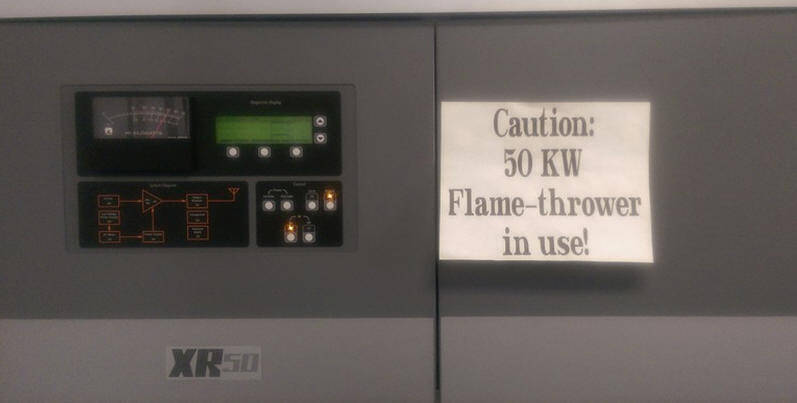 CHANGES
KFBK has been a major part of the Sacramento market for a hundred years now.
From humble beginnings to today, both on-air and technically, KFBK has been a star. For much of its history, music and news was the format, in 1975, KFBK switched to News/Talk, and has kept the format since. Among the alumni of KFBK's talk history, it was Rush Limbaugh that launched his daily program in 1984, before going national.
Changes is FCC Rules led to McClatchy selling the station to Westinghouse in the mid-1980s. Then in 1997 Chancellor Media purchased it – later becoming Clear Channel Communications, and now iHeart Media.
When I last visited KFBK, you instantly knew where you were – in a place run by people who loved radio: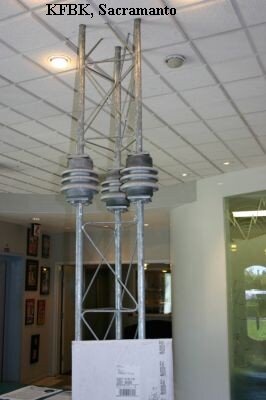 Yes, the first thing I saw in the lobby took a moment to grasp: It was a facsimile of the center insulators out on the Franklin antennas.
I have since learned that it was Chip Morgan that arranged to have it made and installed. A great move!
– – –
Did you enjoy this look at a broadcast station that has lasted 100 years? If so, check out our History section on the BDR. And sign up for the one-time-a-week Newsletter, so you will learn when new articles come out.
– – –