Epson's EcoTank Helps You Pick A Great Printer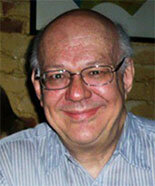 [May 2022] Whether at work or at home, it does not seem that using computers has ended the need for hard copies of important materials. In fact, for some tasks, having a good printer next to your computer is more necessary than ever. Trees be warned!
It was a classic choice: either buy a printer at a bargain price and then you need to purchase very expensive – and sometimes cranky consumables – or get a more expensive printer with more modestly-priced consumables.
This problem eventually led to printers that were cheap to buy, but would not work without using cartridges with proprietary circuitry, ostensibly to tell you when the ink was low, but sometimes preventing any printing if just one pricy cartridge went dry – always at an inconvenient time. When that happened, it was usually easier just to buy a new printer.
Partially for that reason, back in the day I tended to prefer laser printers, as the cost per page was often half or less than the ink jet models. Among them was an ActionLaser 1500 printer from Epson. It was not what they now call an "all-in-one" model – it was a black and white laser printer. But it reliably printed page after page at a modest cost.
FINDING THE RIGHT MODEL
While the ActionLaser met my needs for quite a while, like any machine it eventually needed replacement.
Over time, I tried a number of other machines; some were great, some were just miserable to own. The worst was a color laser model from another company that used toner cartridges costing way more than the printer itself!
In the past couple of years, I heard a lot about the Epson EcoTank feature, which utilizes bottles of ink – not cartridges – to refill the printer ink tanks. Recently, I have been evaluating an EcoTank here in the office. I like it a lot.
ECOTANK
The EcoTank series is comprised of 18 models, from black and white to full color photo-oriented printers. This lets you pick exactly the size and features you need.
The model I have been using is the ET-4850 Home/Office machine.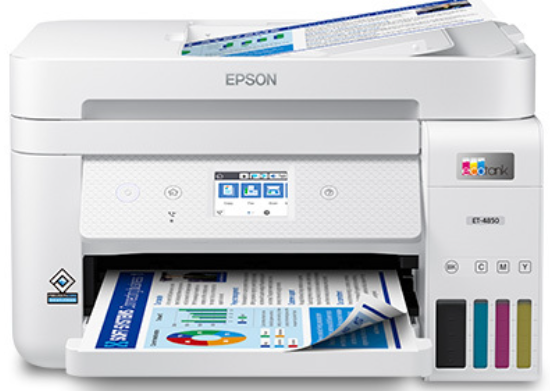 This model matches my home office needs well with full color two-sided printing, copying, scanning, and even faxing (if you know anyone still faxing), among the other features. On the other hand, depending upon the level of usage at a transmitter site, a most black and white model might be sufficient. Perhaps you really do not need fax? Choose the ET-3850 – for about $100 less.
The idea is to choose the features you need, then enjoy a lot of prints, with a low cost of ink, even directly from the manufacturer.
The 2.4-inch color display, adjustable to your best viewing angle, allows you to control the printer directly, or use the software on your smart phone or tablet to print. Scanning is easier than with many all-in-one printers; the Epson software lets you see the scans as they are done, so you can zoom in to check them, and rotate or crop them before printing, saving, or attaching the image to email.
The speed of output is more than adequate, with 15.5 black and white or 8.5 color sheets per minute.
THE DEAL WITH INK
Epson says you can save as much as 80-90% on your ink usage. That is not insignificant if you are printing more than a few copies a week.
The "Claria® ET pigment" ink and Epson's PrecisionCore Heat-Free Technology™ combine to give sharp, good looking prints, with as much as 4800 x 1200 DPI.
One thing is certain: you will not need to buy more ink in a hurry. The printer comes with bottles that may last up to two years – perhaps 7,500 or more black print pages, maybe 6,000 color sheets for the average user. That is more than 300 pages a month on average.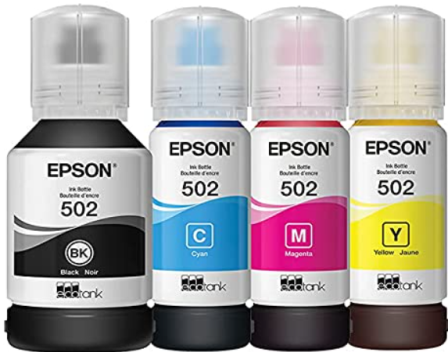 Epson calculates you will avoid as many as 90 or more standard cartridges. When the front panels shows the level dropping, replacement bottles are easily accessed, and even a large bottle of black ink is less than $20 direct from Epson.
Note: If you are reading this before October 2022, Epson has a promotional deal with the ET-M1170, ET-M2170, and ET-M3170 models to guarantee you will not have to pay for ink for two years!
SETUP
I found setting up the printer to be simple and you are taken through the process step-by-step with the front panel display or the Epson Smart Panel app on your smart phone.
Unpacking is quick and easy and, as the spill-free ink bottles are keyed to their respective color,
As part of the setup, the EcoTank has a multi-part built-in alignment routine to ensure the print heads are properly aligned and will deliver clean, streak-less output. Then, connection to your applications is via USB 2, Wi-Fi (802.11n), or 100 Mbps Ethernet.
The printer tray holds a fairly generous 250 sheets of paper.
MORE THAN JUST A PRINTER
In addition to the print functions, the EcoTank is a copier, scanner, and fax machine – it even runs on Ethernet or WiFi – a true all-in-one machine.
When you insert a page, either in the document feeder or on the flatbed, you can choose a black and white or color output, zoom in or out to get the right content as legible as possible, and select other options like two-sided printing.
Printing from your desktop, your mobile devices, and as directed on the touch screen are all possible. There also is an Epson Remote Print option that, easily set up according to direction, enables the ability to print from you device to an Epson "Email-enabled" product anywhere in the world. The mobile app even supports voice commands,
SERVICE ISSUES
Epson has a Tech Support line to help you deal with any issues you might face.
The printer carries a one-year warranty standard, but Epson increases this to two years when you register the unit. What does this mean? If you have a problem, Epson will help solve it, even replacing the entire printer if necessary.
THE BOTTOM LINE
If you do a lot of printing and need the other functions, you should invest in a printer that offers value and quality – that printer is the Epson EcoTank series. The output looks good and clean. The unit is easy to operate and fairly quiet.
As mentioned, you can select the model that has the features you need.
And no matter the model, whether from your home office to one at your station, you will go through a lot of paper before needing more ink – with virtually zero cartridge waste, so you will never need to play the "cartridge game" again, and can be rest assured that you get points for environmental care.
– – –
If you would like learn more, and see more specs, check out the EcoTank Printer page, here.
– – –