Dave Hultsman
Engineer, Broadcaster, Gentleman, Friend, and
"The Mouth from the South"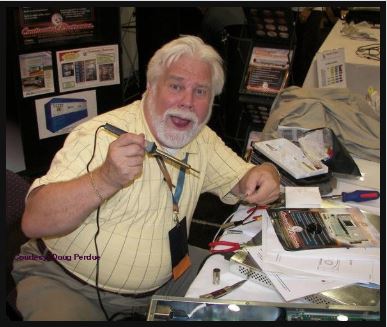 David Hultsman
April 21, 1943
August 27, 2015
8/28/15 – We are heartbroken to have to report the death of Dave Hultsman at the age of 72. He had suffered the past two years as tonsilitis flared into oral cancer. Despite chemo, radiation, and other treatment, it returned and took our friend. He is sleeping now, out of pain, which is a comfort.
Those who knew Dave knew they had someone they could count on at any time, for anything. He had worked at some legendary stations and manufacturers, and never shied away from sharing his knowledge and experience.
A veteran of 51 straight NAB Spring Conventions, he has been most recognized and remembered for his four decades of work with Collins – Rockwell-Collins – and Continental Electronics.
Often, when I had a question about Continental products or something that happened in the industry, I would find myself picking up the phone and calling Dave. He might be home, on the road, at a show, or driving en route somewhere. But he'd always welcome the call and we would have a great chat. Sadly, that is now just a memory.

Dave started in radio during High School in Irving, TX. He was hired at WRR, the city-owned station in Dallas. He went on to stints with McLendon broadcasting (KLIF – KNUS-FM), and KRLD AM & FM in Dallas before moving to Birminham, AL in 1973 as Technical Director for Mooney Broadcasting (WERC and other stations in the South). It was in 1977 he slipped from operations to a sales position, at Collins. Traveling in the South (and eventually the Eastern territory for Continental), he was happy to be known as "The Mouth of the South" … ever ready to talk tech, radio, or life in general. Dave had "retired" from Continental in late February of 2015, but kept his finger in broadcasting, even as family and health matters took the majority of his time and attention.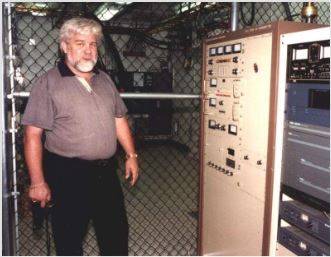 Wherever Continental products were found, Dave was not far behind.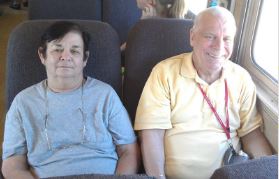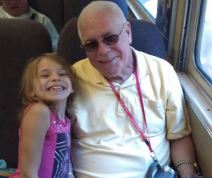 Dave and Karen Hultsman raised two daughters Lisa and Charla, and a son, Daren.
Of course, Dave enjoyed being a grandpa too.
You may wish to come back to this space later for any addition information received, including several more celebrations of Paul's life.
Many thanks to Greg Perdue for the pictures above.
Here are some thoughts from those who knew Dave:
8/29/15 – I "met" Dave long before I met Dave. One Sunday in 1968, while at station in Phoenix, I started getting phone calls from around the country – pretty amazing for a little 250 Watt coffee pot.
It was some years later that Dave Hultsman contacted me regarding an article I had written about radio history. In the course of our conversation, I learned the reason I got so many calls that night was Dave Hultsman's project: buiilding a 12-tower array outside Dallas, which left me virtually alone on 1190.
Over the years, Dave and I spent a lot of time on the phone sharing radio history, meeting at NAB shows and enjoying a meal, and my observing how Dave displayed his unique personality of always being ready to help out anyone needing information or a hand – or a long story of how radio got to where it is.
This year, it just did not "feel" right not seeing Dave at NAB. His generosity and laugh will be missed. – Barry Mishkind
---
8/29/15 – Dave Hultsman was a personal friend, mentor and boss. He hired me at WMAK radio back in 1976 when he was the director of engineering at Mooney Broadcasting. Later on I would go on to jokingly tell Dave that one day I would eventually forgive him for that… He was based out of the Birmingham Alabama Mooney stations.
Most of the time there is concern when your boss comes to town to see if you are doing your job, but was not the case with Dave. Always a learning experience, fun times and great memories. At the same time the work got done somehow and always a pleasure. We would work long hard hours (youth) but then we would balance that out with ample party time. (also youth)
After he went to work for Collins (which was later acquired by Continental) Dave traveled all over in his sales job and every-body knew and liked him from sales calls, meeting at the CEMC NAB booth or at the well-remembered CEMC hospitality suites. I always remember going to those but leaving was not so clear for some reason. Never a cross word and always professional but at the same time, easy-going and laid back.
Dave loved to tell stories of his experience in the field, most of the time they were about funny even hilarious instances that he described as "DFU's" all told at his own expense. Somewhere in the story he would always "apologize" for taking so long and would say "anyway, to make a long story even more boring" then continue, they were anything but boring…. In many sales visits he was always asked by managers or owners where they could find good engineers for hire. I recall one specific story where A station owner who NEVER purchased anything asked him this question over and over and they always were looking for a "good" engineer that was also CHEAP. Finally, one day Dave got
exasperated with the fellow and shot back, "Well, I guess you can indeed find a good CHEAP engineer at the same place you find a good CHEAP sales manager, good CHEAP salesman and a good CHEAP program director…"
I NEVER heard a disparaging word or comment about Dave. Always positive and left you with a laugh…
MANY more funny stories…
God speed dear friend! – Watt Hairston
---
8/29/15 – Dave was a kind, smart, funny man. A wonderful combination of wit and wisdom. Self-effacing to a fault. Always downplaying his own accomplishments and bolstering others. I will miss him so very much. – Bob Newberry
---
8/30/15 – A good friend. Dave would go out of his way to visit me at WTWW (shortwave) and we would have wonderful talks. You will be missed. – George McClintock
---
8/30/15 – A good friend. Dave would go out of his way to Dave was a great engineer, the consummate southern gentleman and dear friend. Through numerous meals and meetings over 15 years, he always brought his family into the conversation. Dave was a proud husband, father and grandfather. And I am proud to have called him "Friend". SBE and NAB meetings will continue but will never be as enjoyable without Dave.RIP my friend. – Kevin Kidd
---
9/2/15 – I met Dave in early 1982 when he sold a Continental Powerock 5 to the company where I had my 1st full time engineer gig with, Sunshine Wireless. Through the years, Dave was always ready to help when ever I called looking for it. Now, over 33 years later I will miss his cheerful grin and long colorful stories at our yearly South Carolina Broadcasters Convention. He was someone that I always looked forward to seeing. I've known him almost my entire career. It just won't be the same this next January at the convention. Your filament burnt out, but your signal will travel the heaven forever with this guy, Dave. Bye my friend. – Ed Noyes
---
9/3/15 – I first met Dave in April, 1966 shortly after joining Collins Radio. While awaiting orders for travel to Southeast Asia, I had some free time and called WRR and asked for the Chief Engineer. Dave came on the line and I asked about the possibility of a tour of the facilities. He promptly invited me to lunch and I spent the rest of the afternoon with him and took Dave & Karen to dinner that evening. We later worked on several radio projects together in the Dallas Market after I returned to Collins in 1973.
Dave has been a great friend and respected colleague for more than forty nine years. He will be missed. – Jack Sellmeyer
---
9/3/15 – My friend Dave! History of Birmingham Radio, storys of the transmitters on Bonaire NA that I ran in the 80's and a friend that always had an good word for whatever was going on! I will miss his wisdom and knowledge! – Darrell McCalla -WBHM/WSGN
---
9/3/15 – David gave me my first job in radio at KLIF / KNUS back in 1969. We became friends and have been since then. We also worked together at the Olympics and would get together in what ever city we were in. He will be missed by all that knew him. – Craig Slayton.
---
9/5/15 – Dave and I were competitors through the years but we were always friends and enjoyed talking about all things technical. Often at State shows or NAB or the TAB during some of the business sessions we would sit and talk and talk and talk. Dave was always a perfect gentlemen and never had anything bad to say about the competition. He was a class act and we all will miss him. – Hal Kneller
---
9/10/15 – A portion of my work in this industry was happily dedicated to sales with Broadcast Microwave Services. At the NAB show our exhibit was usually in the RF products neighborhood. Due to the strength of Dave's personality and presence, he was one of the first vendors I got acquainted with. At regional shows such as SBE 22 (Central NY), Dave was usually nearby and could be counted on to greet me with that great smile as we were preparing for each show. During the show seasons of Spring and Fall, I would look forward to our occasional conversations. Although I had not seen Dave during recent years, I am disappointed that our community must go forward without him. – Russell Murphey
---
9/10/15 – I first met Dave at NAB in 2005. Always with a broad smile, he would visit with me at successive NAB conventions. Engineers will definitely miss his expertise. – Brent Hall
---
9/18/15 – By now many of you have heard that David Hultsman passed away on August 27th following a two year battle with cancer. While I can't say that I've known David Hultsman as long as many of you but I can say that I've had the absolute pleasure of knowing David well for the past 12 years. We have truly lost a great guy and a good friend. David was affectionately known as "The Mouth of The South," but he was also known for his dedication to the industry he loved and, more importantly, his love for his wife Karen and his family.
To give you an idea of what a trooper David was I'll tell you about how he managed the 2014 NAB show. Knowing he was getting treatment for his cancer we wondered if David should go. Thinking this might be the case he told me about the award they gave him 10 years earlier for attending 40 consecutive NAB shows and said we should contact the NAB and see if they wanted to give him another award for 50 consecutive shows. I figured he must be up for it so I contacted the NAB. As David hoped, during the Show David was presented with a plaque for attending 50 consecutive NAB shows by NAB President Gordon Smith. You can tell by the pictures that, although he wouldn't admit it, David enjoyed being in the spotlight. More importantly, he was able to attend yet one more NAB and see all of his broadcast engineering friends, and there were many who made it a point to stop by.
I'm sure everyone who knew David has a special story, funny incident or fond remembrance. For me; David was a special person and a great friend. He will live on in my memory. – Mike Troje – Continental Electronics
---
6/3/16 – I had the pleasure of working with Dave at the London Olympics as his Deputy Commentary Manager. Dave was the consummate professional as well as a true Southern gentleman. He always expressed his gratitude for anything I did and he was genuine as well as unfailingly polite. I lost his number and did a search on the internet and was shocked to learn of his passing. I will miss him but I am sure I will fondly recall our time together as I work the Olympics in Rio. God Bless Dave, your absence will be felt by all. – George Buas
---
If you would like to add to these pages, with your thoughts on Dave Hultsman, please contact the Broadcasters' Desktop Resource.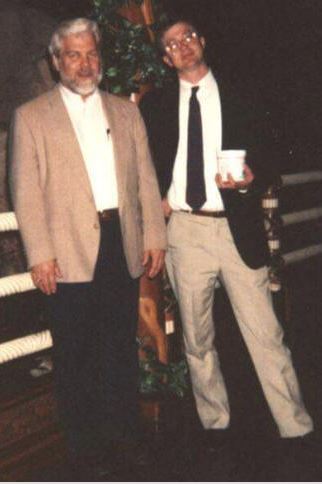 Early 1980s with Bob Newberry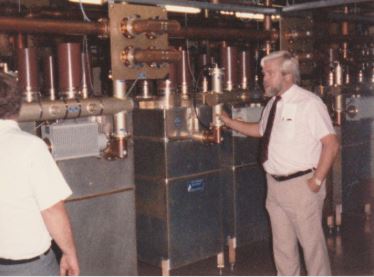 Larry Wiklins shares this picture from 1989 at the Montgomery Tower Partners Tower.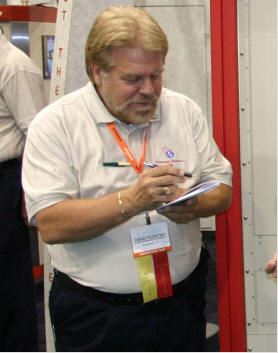 Takin' care of business during NAB Spring 2005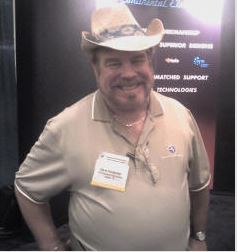 At the 2006 Dallas Fall NAB Show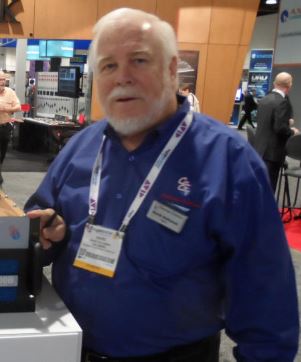 2013 NAB Spring Show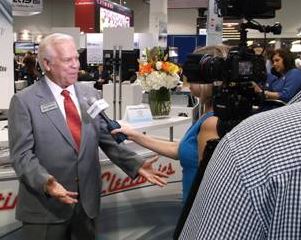 50-year-consecutive-attendee David Hultsman
being interviewed by NAB-TV in 2014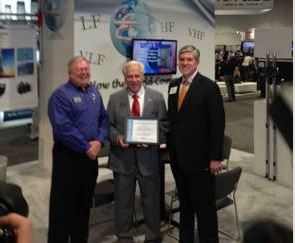 Dan Dickey, David Hultsman, and
NAB President Gordon Smith in 2014