Dante Solves the Problem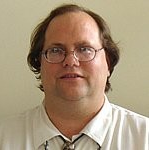 [September 2022] There are several ways to get audio from here to there; phone lines (where they still exist), STLs, Internet, fiber, etc. Of course, the last two cannot handle analog audio. So, you need to get it into – and back out of – the digital domain.
Our problem was the need to send audio over fiber while maintaining quality.
A colleague of mine had the need to send a couple of channels of audio over fiber. He had tested several off-the-shelf solutions, but the audio quality was far from ideal. When I got there, he was deploying a slightly modified pair of units, but expressed to me his disappointment that better options were not available.
NOT THE FIRST TIME
It was in the mid-1990's that I first ran into audio over fiber optic transmission in the pro-audio world during a visit to WKSU, the station of Kent State University.
That station had obtained dark fiber from the University IT department and had implemented their STL over it by using the Sundance Systems FiBox equipment.
However, as we fast forward by about 25 years, Sundance Systems is no longer around. So we to find another way to send audio over fiber.
FINDING THE SOLUTION
After confirming that indeed there few such boxes out there, and that I could not find anything my colleague had not already tested, I started to think outside the box.
Possibly the way to handle this was to use Audio-over-IP technology, particularly since we already had an Ethernet over-fiber media converter solution with which we were quite satisfied.
My new challenge became one of scale. Axia nodes and Wheatstone blades have far too many inputs and outputs to be cost effective to handle just a few audio channels. So while they theoretically offered a solution, they were not going to help my colleague without breaking the bank, leaving him with the marginal solution already in place.
DANTE
It was at this point I remembered Dante, which is an audio-over-IP standard widely embraced in the AV world.
In that realm, a few channels at a time are not at all uncommon, and indeed the equipment manufacturers have accommodated this reality with small-scale input and output devices (as well as combined I/O devices). Dante handles mono audio streams, which is what we needed, making for a more efficient operation when building networks.
Of course all we were doing was to send the Dante streams over a point-to-point fiber link.
COST EFFECTIVE SOLUTIONS
Since the time of this discovery, two years ago, the Dante options to do what we needed have grown considerably.
The device we chose was the Radio Design Labs RDL RU-LB2 Line-Level Bi-Directional Network Interface.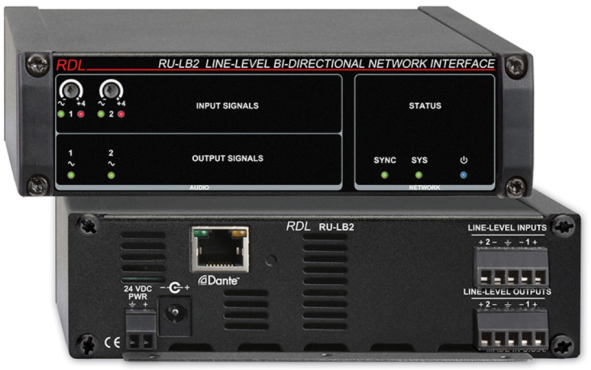 RDL is, of course, a company well known to broadcasters, and we were rather confident the audio quality would meet our needs. Also, the relative obscurity of the Dante protocol in the broadcast world was irrelevant, since we were creating such a simple closed system.
SOLVING THE PROBLEM
We obtained a pair of the RU-LB2 units and testing confirmed they were suitable for our needs.
Here are some key specifications that might be of use to you:
Converts Two Line-Level Inputs to Dante Channels, and Two Dante Channels to Line-Level Outputs.
Line-Level Inputs Accept Balanced +4 dBu or Unbalanced -10 dBV Signals with > 18 dB Headroom.
Front-Panel Gain Adjustment with Dual-LED VU Meter for Each Audio Input.
Line-Level Outputs Provide +4 dBu with > 18 dB Headroom.
RU-LB2P Model Includes Normal or Hot-Standby Operation from PoE Power
We paired the RDL units with the Startech ET90110 series Fiber Media Converters. We have used dozens of these Startech devices in the past with good results.
We have now deployed this solution at close to a dozen sites. Audio quality exceeds our needs. While just a bit more complicated to deploy than dedicated units, the learning curve is not a steep climb, with all configuration via a web GUI.
– – –
For more on the RDL Dante products see: https://www.rdlnet.com/Dante/
For more on the Startech Media Converters see: https://www.startech.com/en-us/networking-io/media-converters
– – –
Rolf Taylor has over 30 years experience in dealing with audio issues. He currently is at Rocket Engineering and Consulting in Springfield, VA. You can connect with Rolf at rolf.taylor@yahoo.com
– – –
Would you like to know when more articles like this are published? It will take only 30 seconds to
click here and add your name to our secure one-time-a-week Newsletter list.
Your address is never given out to anyone.