Building A Boston Lighthouse – Bringing NextGen TV to Market #10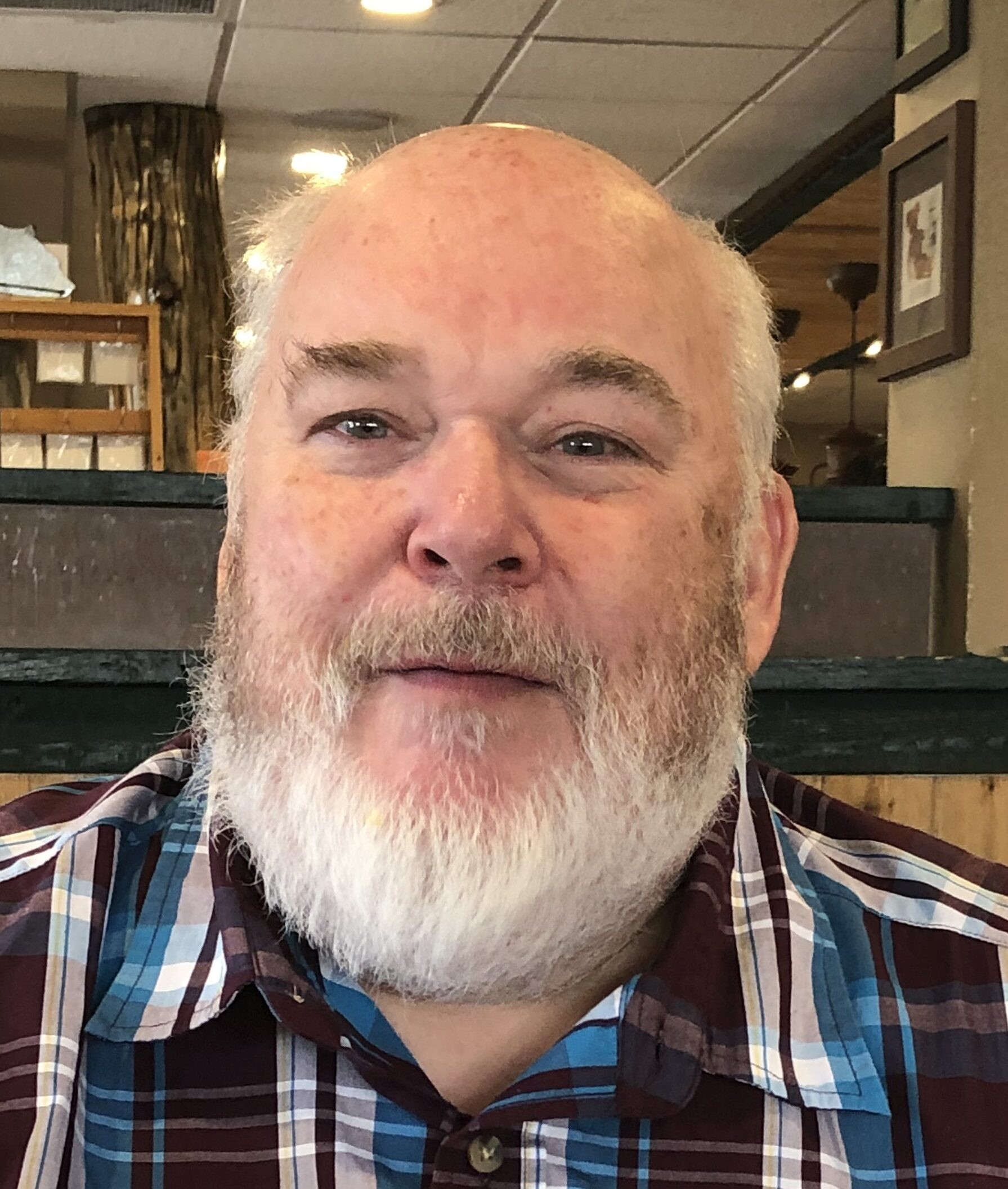 [March 2023] ATSC3 is gradually covering the entire country, bringing new features to TV sets capable of decoding the streams. Yes, streams. ATSC3 brings a tremendous number of features to OTA (over the air) TV, including audio streams – effective radio stations on the TV channel transmitter. 
Dana Puopolo has been working at a new installation in WUNI-TV in Boston, and shares his thoughts on the new TV standard.
Last summer the good folks at TelevisaUnivision decided to take a chance with an old radio guy like me and made me Director of Technology at their two Boston television properties.
On my first day my new boss let me know that our RF facility would soon become the "Lighthouse" TV station for NextGen TV in the Boston TV market. I googled "NextGen" and immediately discovered the web site www. pearltv.com  
LIGHTHOUSE
 Pearl.tv is a site about television's second generation digital TV platform, loaded with information.
Its possibilities are endless (Step outside the TV box and realize that a NextGen TV signal is essentially a 29 Mbps ASI transport stream with an FCC requirement that only about 300 kilobits must be used for television).
One of the big difficulties of adding a new and incompatible digital television broadcast system is the reality that unlike the changeover from analog to first generation digital, this time there are no companion channels available. In 2009 the TV band extended out to channel 69, today it ends at channel 36 and cellular got the rest.
So, the concept of "Lighthouse" stations came to fruition. One TV station with a good signal, hopefully with elliptical polarization (At least 30% vertical) would become the NextGen TV station (The "Lighthouse") for the major TV networks (The partners) and their first generation digital signals would in turn be broadcast on the partners' RF channels.
NOT A SIMPLE DEAL
This sounds simple in theory; in practice it is a legal and logistical nightmare that the TV broadcasters were hell bent to overcome to keep their services relevant in a streaming world.
Fact is, cord cutting is growing like crazy and NextGen's signal (being OFDM – Orthogonal Frequency-Division Multiplexing) is far more robust that the first generation's.
Add a low RF channel (27 – 548 MHz) with 400 kW Horizontal and 120 kW vertical from 356 m (1,168 ft) above average terrain and you have a potent competitor to the high cable charges today.
The first picture is of the Rhode and Schwarz 900Es series 25 kW transmitter (Sixteen water cooled 1500+ Watt solid state Doherty amplifier modules – Think Continental AM transmitters). This transmitter sends NexGen TV signals out for ABC, NBC, CBS, Fox, PBS, Univision, and True Crime on RF 27 (551 MHz). AC to RF efficiency is 36%.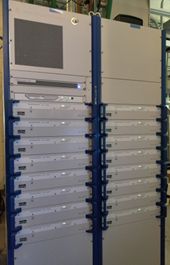 The Rhode & Schwarz
700Es transmitter
Right now, our RF plant is hosting the NextGen TV signals of ABC, CBS, Fox, NBC, PBS, and TelevisaUnivision – all in 1080p quality. It is even possible to send audio only – effectively radio (!) – to receivers that can handle it.
The FCC requires that stations that elect to broadcast using NextGen TV (It is currently voluntary to do so) maintain their ATSC-1 programs for I believe five years then they can drop ATSC-1 if they wish.
THERE WERE  CHALLENGES
As mentioned above, this is a monumental task.
I say is because it still is not quite over; it took extra time because everything was frozen until after the Super Bowl. Adding DRM content protection to those stations that wanted it took another month.
Along the way we needed IP transport of incoming high definition signals from the partners, along with backhaul HD and SD transport for our 720p HD and six 480p channels. This requires redundant high capacity fiber IP connectivity from two suppliers (Verizon and Comcast).
Both companies were weeks late delivering their circuits – with Comcast about 16 weeks from order to install.
DE-BUGGING
The encoders we use are from Harmonic. They use an OS called XOS.
Our unit had the latest upgrade, but that also had a decent amount of bugs. These needed to be discovered and then fixed or worked around. Also, NextGen TV is so new that even its test equipment has bugs! And we discovered the different TV set brands also have software bugs, both as a group and individually by manufacturer.
One by one, the group of dedicated, motivated Boston network TV Chief Engineers collaborated by group chat, group and individual emails and phone calls to overcome the unseen obstacles placed in our way. And, one by one the dedicated Televisa Univision engineers charged with converting the transmitter and setting up the encoder fixed thoxe problems as they found them.
GETTING IT ALL ON THE AIR
Working together success was achieved and the on-air pictures I see on the partners' NX channels tell me this this monumental effort was well worthwhile.
The second picture is of the Trivani Streamscope for WUNI-TV 27. The pie charts are of the bandwidth used by the stations. It constantly changes depending upon their motion content in the picture of each station. There is a maximum bit rate per station also.
This is a picture of the ASI stream that will be going into our transmitter.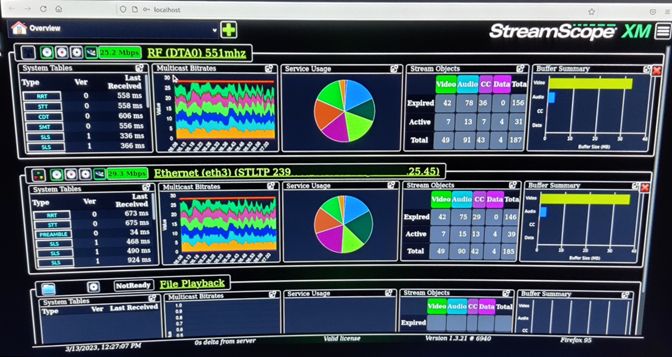 The top display is that of a Sencore demod looking at the output of the transmitter; the second row is the tap of the signal going into the transmitter via Cat 7.
The Harmonic encoder dynamically allocates each station bandwidth just over what it needs. The pie chart changes second to second and it is way cool to watch.
Finally, every stream is converted to 1080p (and actually looks better due to linear interpolation and other magic) and then multiplexed into the single ASI stream that goes to each TV exciter via Cat 7.
I believe the future for NextGen Television looks bright – as bright as our RF 27 lighthouse illuminates greater Boston and beyond.
– – –
– – –
Over the years, Dana Puopolo has been in markets large and small. His emphasis on audio purity is well-known. He is also the source for Dana's Daily Deals on the BDR. You can reach Dana at dpuopolo@usa.net
– – –
Would you like to know when more articles like this are published? It will take only 30 seconds to
click here and add your name to our secure one-time-a-week Newsletter list.
Your address is never given out to anyone.
– – –